Review and photos: Imagine Dragons in Ottawa
[Story by Karen Coughtrey. Photos by Ross MacDonald. – AC]
On a beautiful spring night in Ottawa, the city's major venues made choosing which show to attend a tough choice but those attending the Imagine Dragons show at the Canadian Tire Centre would not leave disappointed. Imagine Dragons would declare "Tonight is for you, whatever you want it to be, it will be. Clear your mind, forget school, work, politics, leave it all at the door" and the crowd seemed willing to follow those instructions as the band later thanked the Ottawa audience for their kind energy.
Guest performer AVIV got the night off to a great start, opening the show with the title track off her newly released EP, Drowning in the Culture. You would never guess her young age or newness to the touring scene as she displayed mature confidence on stage and the crowd was into it and could be seen grooving in their seats to the upbeat second song "Black Coffee."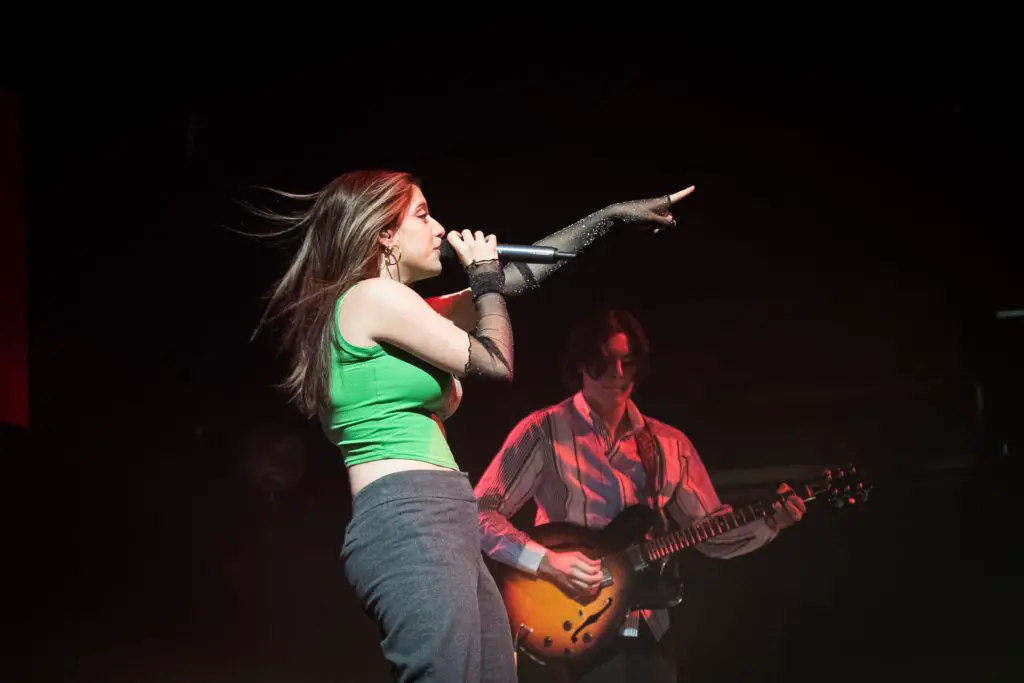 Her set was a lovely balance of mellow tunes, that created a more intimate atmosphere as she sat to play the keyboard, and more upbeat rock-pop numbers that had her dancing wildly around the stage and inviting the audience to dance with her as she declared she hoped the crowd would be as out of breath as she was by the end of the set.
The audience was even treated to a not yet released song, 'Running shoes', that she explained was about the process of finding the right people to surround yourself with, about figuring out the people who make you feel good. She invited the audience to sing along on a cover of the Arctic Monkeys' song '505' and concluded her set with the song, 'You Feel Like Depression', which had the audience screaming and headbanging along with her. [Scroll down for an interview with AVIV.]
The Imagine Dragons set opened with an artistic black and white video asking the crowd if they are awake, have they ever been, will the story of their life is "nothing more than a series of dreams," and ended by declaring where there is darkness there may also be. There is an audible gasp of surprised delight as frontman Dan Reynolds appears in a burst of light at the tip of the T-shaped stage and begins to sing "My Life" the opening track from the band's fifth studio album Mercury – Act 1. The song starts slow but quickly dropped to a more upbeat rock tempo and the crowd was on their feet immediately, loving it, as the band sprayed confetti in the air from several parts of the stage and then moved directly into performing their mega-hit 'Believer' from their 2017 album Evolve. There was no doubt this was going to be a good show and a great night.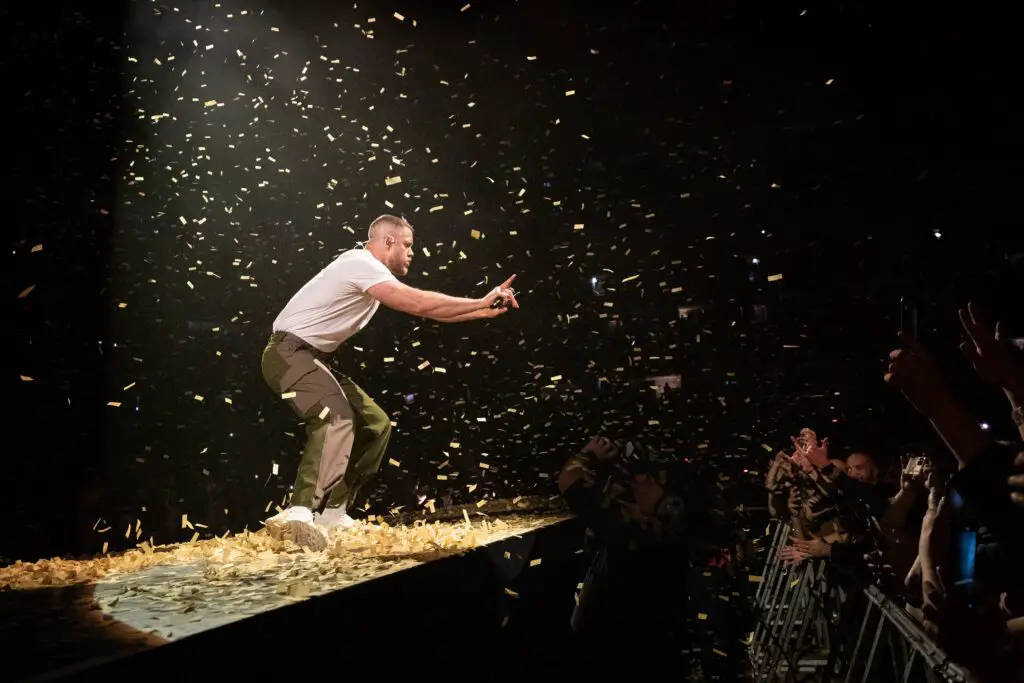 The long catwalk arm of the stage extended into the general admission area of the floor, allowing Dan a wonderful range of freedom to move about and interact with the fans on the floor as the band performed 24 songs, a mix from the new album and favourites from older albums, but the whole audience was dealt a great deal of appreciation from the band as they recognized how hard the last few years have been and how much they appreciated being able to perform for crowds again.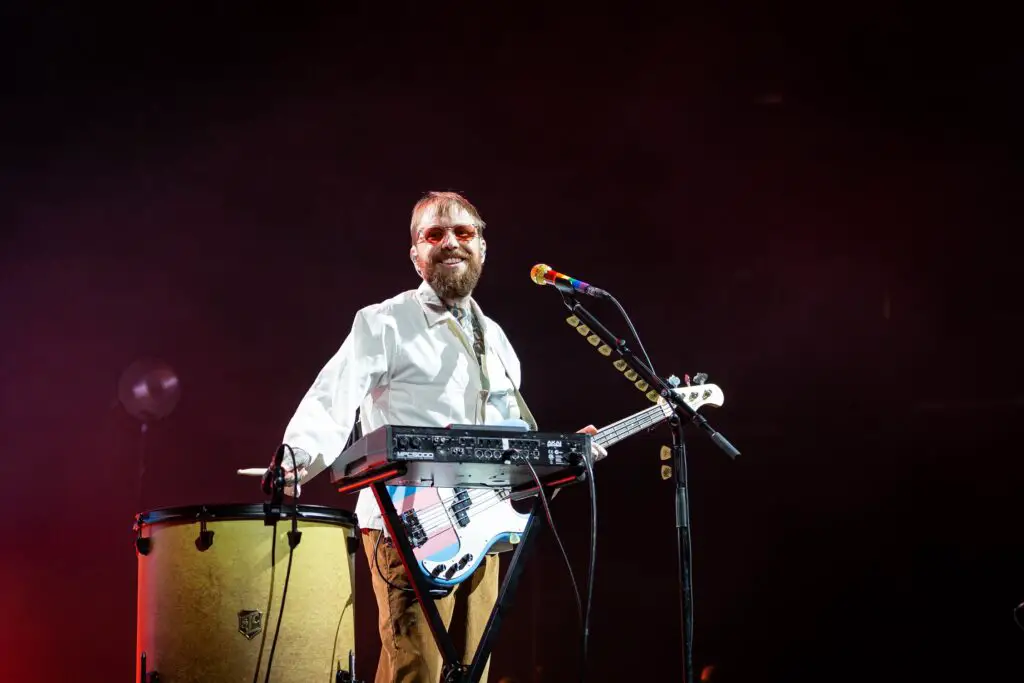 The theme of the night was life: its worth, its challenges, the shortness of it, and the show was divided into parts by more artistic muted tone videos with audio opining on the meaning of life. Reynolds also shared many stories of his personal struggles that inspired their songs. Before performing their first-ever song, 'It's Time' (2012 Album Night Visions) he spoke about the scary time while he contemplated dropping out of college and how he then found his answers in the beat that became the song. The line in that song, "I'm never changing who I am" is particularly important to many Imagine Dragons fans who appreciate Dan, who was raised Mormon, for his ardent activism and support of the LGBTQ+ community.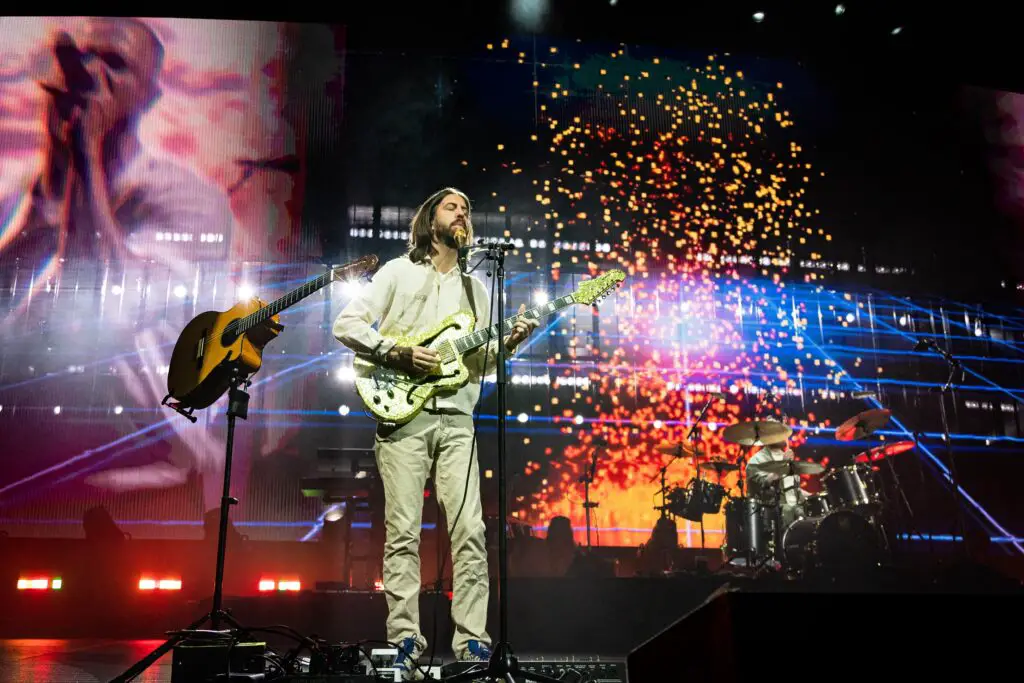 Later Dan spoke about discovering a pattern of pushing good people away before moving into the song 'Shots' from their 2015 album Smoke + Mirrors. In a very touching but incredibly important moment of the night before performing 'It's Okay' (from their Mercury – Act 1 album) a song about self-acceptance and the normality of experiencing difficult hard feelings, Reynolds spoke about the importance of therapy.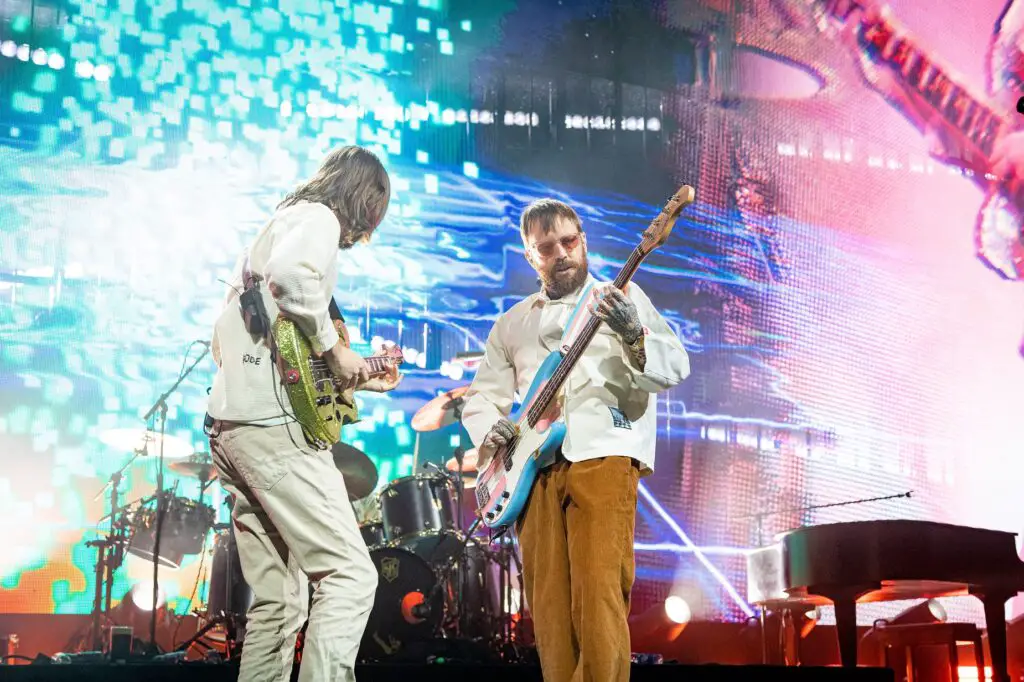 Speaking directly to the kids in the audience he said "Don't ever hold those feelings inside, it doesn't make you strong to hold those things in, it doesn't burden people around you to share it. Talk to your parents, talk to people around you, and see a therapist. It doesn't make you weak or broken, it makes you incredibly wise, preparing for a future. The whole world needs therapy, we need to destigmatize it and above all your life is always worth living. Always. We need you. We need your bright spirit, we need your difference, we need your colour. Bring it all to the table, don't try to be like anyone else, just be yourself, that's all we want."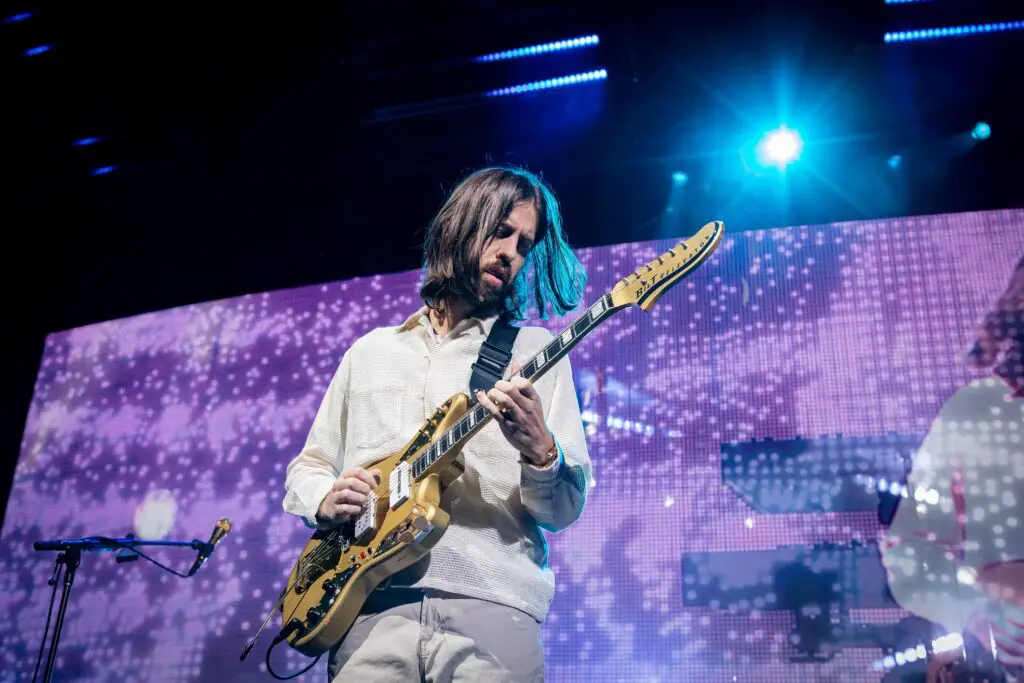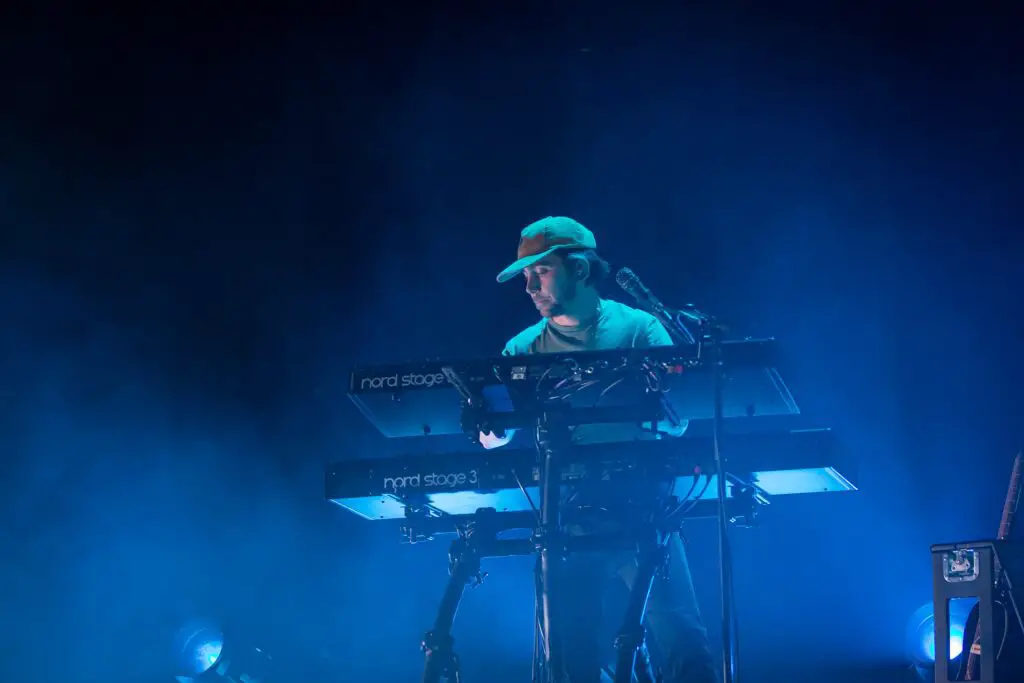 This talk was reinforced near the end of the show as they sprayed the entire arena with confetti, this time with 4 different designs, including two little love notes from the band. "We couldn't do this without you. All our love" reads one while another signed by Dan says " You are me & I am you. You are valid. You are perfect just the way you are. Your life is always worth living. I love you." The band is fairly open about causes they care about and one of the other notes includes a link to Kulturecity an American non profit dedicated to sensory accessibility and acceptance for those with invisible disabilities.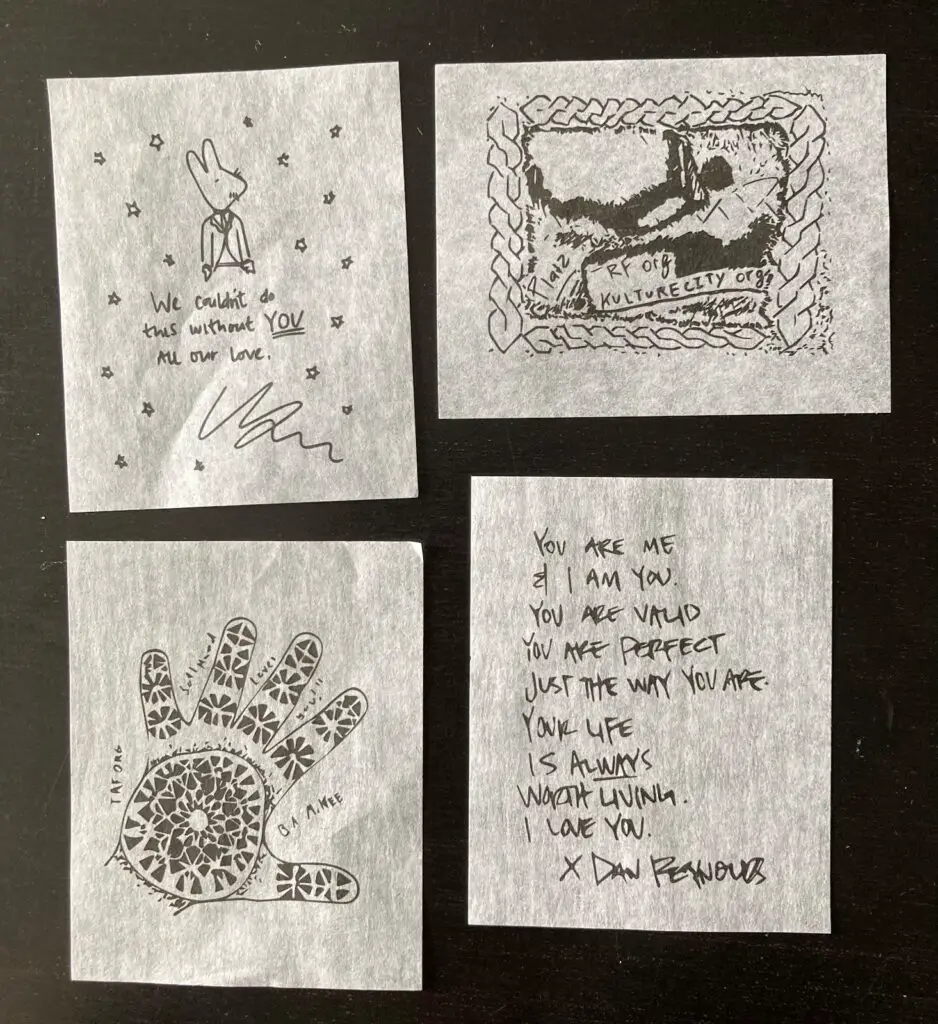 Despite some of the serious talk Dan and the band were clearly having as much fun as the crowd, who were out of their seats singing, clapping or toe-tapping along to nearly every song. The set was high-energy rock with some hip-hop undertones but was punctuated with a mini acoustic set mid-show during which they delighted the audience with a cover of 'Three little birds' by Bob Marley and the Wailers. Another highlight was the performance of their hit 'Radioactive' (from the 2012 album Night Visions) which started with Dan playing a solo on grand piano and then gradually built to a rocking guitar solo by Wayne Sermon on a raised platform at the end of the catwalk, and then ended with Dan finishing the song back solo on the piano. The show concluded on a more mellow note, a quick glance around proved that many in the crowd were hugging and swaying together to their song 'Walking the Wire', from their 2017 album Evolve, and then Dan ended the show with a reprise of 'My life'.
Cue the standing ovation.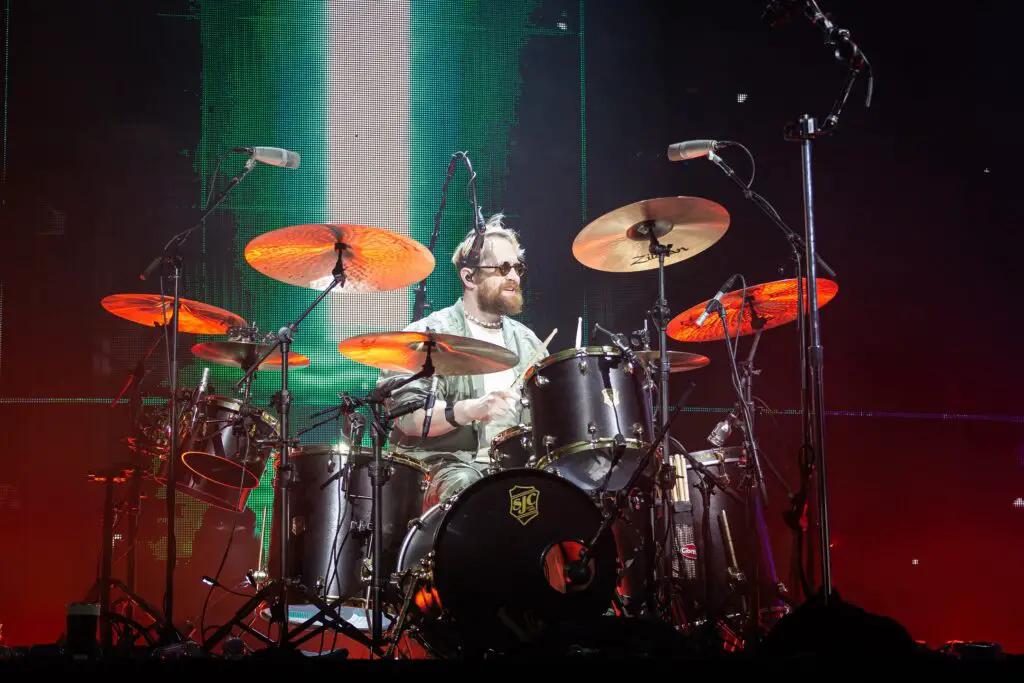 Imagine Dragons:
Dan Reynolds – lead vocals, piano
Wayne Sermon – guitars, mandolin, backing vocals Ben McKee – bass, keyboards, percussion, backing vocals
Daniel Platzman – drums, cajon, guitar, backing vocals
Also with touring member: Elliot Schwartzman – keyboards, guitar, backing vocals
BONUS: An interview with AVIV (Karen Coughtrey)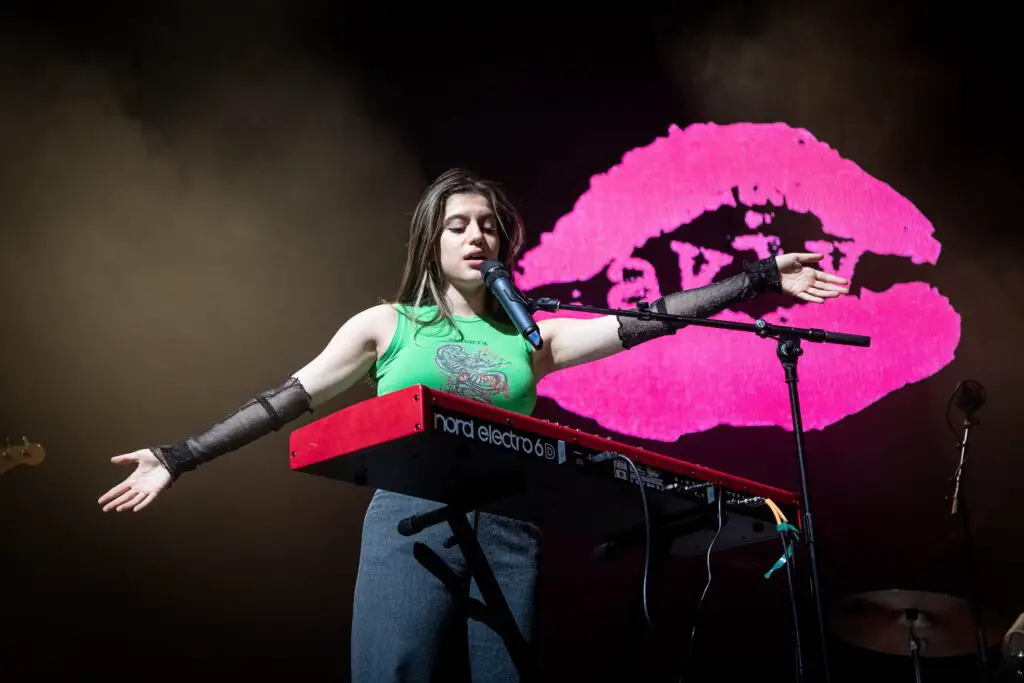 Opening for Imagine Dragons on their Mercury tour Friday night (April 22) in Ottawa was Toronto's indie prodigy AVIV. She demonstrated a command of the stage from the opening riffs of the first song of the night, the EP title song Drowning in the Culture, and had the crowd entertained until the final notes of the last song of her set, "You Feel Like Depression."
She seemed to relish the fact that we have all been missing live music, asking the crowd if this was their first show. Whether it was their first show ever or first live concert in recent years they cheered. The visuals on stage were cheerful bold neon but her music reflects life in the last few years. Times have been tough, friendships and relationships have been tested and the mellow vibes of "Girls in Red" or the first song on her newly released EP How Can You Smile and the more upbeat tempo of "Disposable Friends" would speak to many in the audience. She demonstrated her range of talents by stepping behind the keyboard for her softer songs but had the audience moving with her as she danced around the stage as she performed her livelier numbers.
After the show, A Journal of Musical Things had an opportunity to chat with AVIV about her career so far, her inspirations, life outside of music and to ask what's next.
AJOMT: How did you land this gig opening for Imagine Dragons?
"It was through my manager and his connections and they were sent my song because I know they were looking for a family-friendly Canadian opener. It was Dan I believe who heard it, it was the song 'You feel like Depression' and they heard it and they were like "Oh yeah, let's give this kid a shot."
They are amazing, it was a very very lucky thing to get and definitely hard work of everyone surrounding me, not even just me and like I said just extreme luck that they said yeah."
AJOMT: They played 'Feels Like Depression' on the local radio station, Live 885, indie spotlight. Have you been getting much airplay?
"DId they? That's really nice of them, I'm going to tell the team. That's so exciting."
"So indie 88 put two of my songs on rotation, I actually went into their radio station and we did an acoustic version of 'Black Coffee'. They've been great and CBC's been great in Toronto. There was a station in Victoria when we went, I actually heard it in the car and that was my first time hearing it so it was really cool. It's one of those things that radio obviously nowadays has its whole new light but I value radio plays and things like that so much. That's still the coolest thing to me."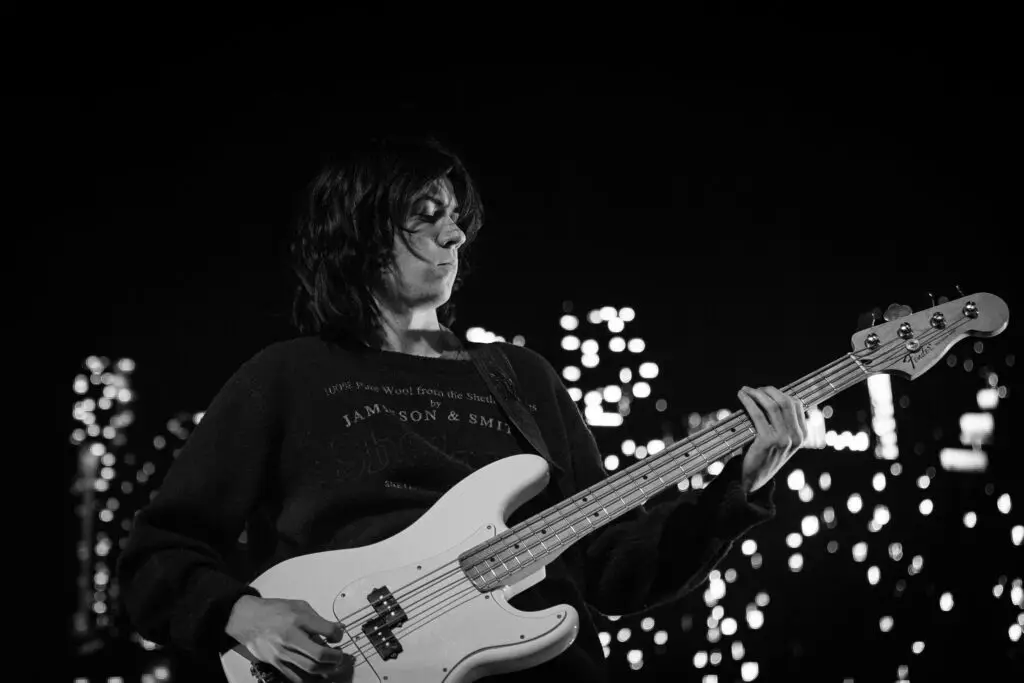 AJOMT: Listening to your music, it has serious real-world issues like mental health and the tempo change-ups that don't sound like typical pop music. Do you see yourself in a particular genre?
"Genre confuses and scares me. What I loved to write a year ago is not what I love to write about now."
AJOMT: We were lucky to hear a new song tonight.
"It's called running shoes. It's not out yet, it's unreleased. It was very shocking to my team when I was like I'm doing that song. Cause they were like you just wrote that last week and I was like I know!"
AJOMT: Dine Alone Records has a great roster of artists. How did signing with them come about?
"So Dine Alone Records how that came along was that they heard that one of my songs got on a Spotify playlist and my A&R was in the office and he listens to Spotify and he scouted me. Then he actually took us to the Dine Alone office where we met him. It felt like a very right fit immediately."
AJOMT: Black Coffee is a beautiful duet. How did the collaboration with Octavio the Dweeb come about?
"Octavio lives with another artist called Ryan Wood and I was friends with Ryan."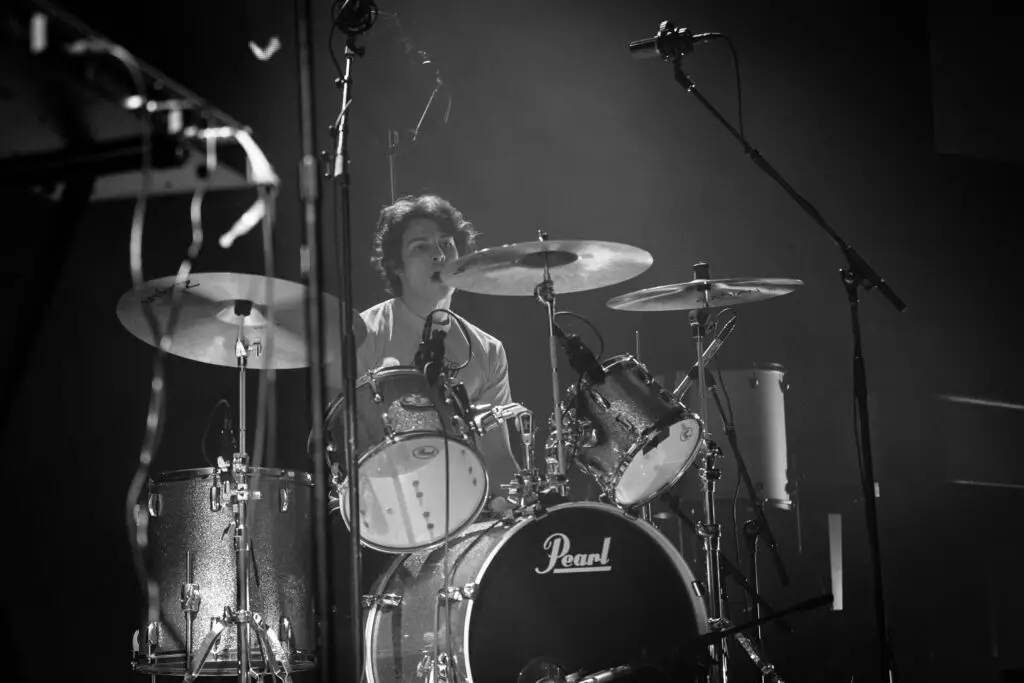 AJOMT: Toronto has a great music scene. Are there any other collaborations in the making?
"Oh absolutely, there's a lot. I really want to get a collab on the song Celebrate that's on my EP. That's my next step. I don't know who it is but we'll figure it out."
"I always give my music, my passion, like half of that is [because of] my city Toronto… I grew up with it just being common to go to concerts. Especially on this tour it's opened my eyes up to places where there aren't many concerts. [Toronto] is definitely what fueled me to listen to music and jump out and I thought that was really cool about Toronto. I love [Toronto] for that."
AJOMT: When you aren't creating music, what are you up to?
"Not much, usually listening to music when I'm not creating it. But I love to sew, that's something I do. I got a sewing machine for my birthday and I like making clothes. I obviously go to school so a lot of school stuff as well, and friends, reading, lots of Netflix. Very very normal outside of music. It's funny, my dad always jokes, you go play a show like this and the next day you go to school in the morning. It's like these two lives."
AJOMT: When did you start writing music? Have you had any influential teachers?
"My older brother, he's been very involved heavily in music and he's one of those guys that's like I listen to different music and I'm cool because I do that and when I was younger I really fell for that. And honestly, I owe him a lot because he did really introduce me to unique artists. He was the one who introduced me to half of the artists I get my inspiration from so I definitely give him and my father a lot of credit for opening up these artists to me."
"At school, with writing my music and stuff a lot of my teachers definitely inspired that. Especially my grade nine teacher, she was very poetic and metaphorical and loved creative writing and I think that was the time when I was writing my best was when I was in her class."
AJOMT: What's next for AVIV?
"Oh my gosh, heaven knows. A lot is in the works. I just released the EP, riding off of that, tours – lots of them, and then making more music. I have the song I played tonight and there are a lot of unreleased songs that are getting worked on. For now, it's just riding the EP and getting out there and exposure with tours and live concerts. Because of Covid, I didn't get to experience that so I'm just catching up with that."
"Everyone is on tour right now because just as much as people want to tour, people want to see concerts right now. It's just what people want to do. That's what I love about [the Imagine Dragons] audience specifically because for most people it is their first show and people want to yell and when you tell audiences to scream they just want to scream. They want that experience, so I love their fans. They're amazing."