Review: RHA MA600i Headphones
As collateral effect of what I do for a living, I have all manner of headphones in my office:  Bose, Klipsch, Shure, Bang and Olufsen and several dozen pairs of Apple ear buds of various vintages, all of which are mysteriously able to tie themselves into a Gordian knot.
Which headphones I use depends on what I'm planning to do.  If I'm out for a run, I tend to use plain old Apple gear because (a) they let me hear what's going on around me; and (b) I don't care if they get all sweaty and damaged. If I'm walking the dog and listening to a podcast or audio book, I don't need anything with major high-fidelity.  But when I'm in the mood for some serious listening–or if I'm on an airplane and want to shut out all the noise–I choose one of the in-ear type.
This brings me to RHA, a UK company who makes high-quality in-ear 'phones using aircraft-grade aluminum.  I've been testing out their MA600i model–and they've quickly become one of my favourites.
At first I was a little intimidated by having to find the right silicon ear adapters.  I apparently have oddly-shaped ear canals which tend to reject anything that's shoved into them, so I was wary of the effectiveness of the RHA's silicon tips.  But after a little bit of experimenting, I found that the large-sized double-flanged tips.  They were a little fiddly to put on, but once I figured out the trick for the first, the second was a breeze.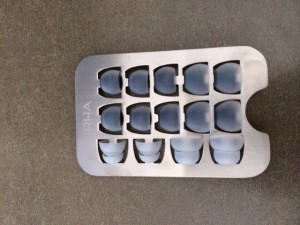 I like the way the RHAs are manufactured.  The metal bits are finely machined and look like they could stand more than average abuse (they carry a three-year warranty, so that should say something).  The microphone/remote is also mostly of metal and seems slightly larger than in-line remotes on some other headphones.  The cord–double-insulated, which should mean fewer kinks and breaks as well as better behaviour in cold weather, is longer than usual (135 cm), meaning you can easily run it from a device in your front pocket.  There's also a hand clothespin-like clip that allows you to keep the cord from flapping all over the place.
The cable is also flexible enough for you to wear the 'phones two ways:  trailing down from the ears or in the sweeping-from-the-front-over-the-ear style.  I favour the latter because it seems to keep the drivers properly seated in my freakishly large ear canals.  Once your done listening, you can store your RHAs in the included hardshell case.
Fine, but how do they sound?
Excellent, as it turns out.  Frequency response is smooth with none of the that boominess (read: Beats by Dre) nonsense.  Yet bass response is both deeper and tighter than you might expect.  I couldn't detect any annoy mid-range shrillness that plagues some of my other headphones.  There's a slight peak in the upper highs, but nothing that will cause fatigue.  Instruments like pianos and acoustic guitars sounded correct.
I even tested them against one of my most accurate recordings: a FLAC rip of the Royal Philharmonic Orchestra's version of Gershwin's "Rhapsody in Blue."  There was plenty of definition among all the instruments, right down to the subtlety-played bass drums in the intro and the oboe buried below the early piano parts.  Impressive.  The same goes for my SACD edition of Dire Straits' "Telegraph Road."I heard parts of the arrangement on the RHAs that were only audible on my stupidly expensive studio headphones.  For example, the intro features a rim-shot snare drum rhythm that an ever-so-slight bit of reverb.  If you can hear the entire decay of that reverb, then you've got some good drivers in your ears.
Meanwhile, the outside world was completely sealed out.  The double-flanged silicon tips provided more than adequate levels of noise reduction.  And they were supremely comfortable. Most of my other in-ear 'phones end up hurting after a while.  Not the RHAs.  I pretty much forgot they were there.
If you're looking to graduate to something a little more high-end when it comes to your headphone needs, I'd seriously consider the RHA 600i.