RHA MA450i Earphones and SA950i Headphones: A Review
I'm very, very fussy when it comes to close listening. In the studio, I have my favourite model of Sony headphones that I can't imagine doing without. But when it comes to listening when I'm out and about, I'm still looking for the perfect solution.
A package arrived from Scotland the other day containing two pairs of headphones from RHA, a headphone manufacturer in Glasgow, Scotland. The first set was a pair of MA450i earphones ($49.95 at the Apple Store.)
They looked nice: machined aluminum (sorry, aluminium–we are, after all, talking about the UK here) with a fabric-braided cable instead of the usual exposed plastic. After sizing the ear tips for my ear canals (my left one is smaller than my right; I did not know that), I plugged them into the iPhone and took the dog to Starbucks.
Knowing that earbud/earphone/headphone preferences are highly subjective, I'll just keep it general. Bass was nice and tight, well-defined and completely lacking in that fake Beats by Dre boominess. The high end was crisp and clean, again with good definition. The response curve seemed to be a bit mid-range-y for me–but like I said, we're dealing with some serious subjectivity.
I love the braided fabric cable. It's tangle resistant and didn't get all stiff in the cold, even at -8. The controls and microphone (on the lead to the right ear instead of the traditional left; this is the UK, remember?) worked very well. Some earphones I've used are stupidly sensitive, often summoning Siri or Voice Control with the slightest breath, but the RHAs were fine.
After about 90 minutes of dog walking, my ears didn't hurt from the silicon tips. They also do an excellent job of sealing out external noise. The next step will be to test them out on a vigourous jog, but that will have to wait until the sidewalks are clear from Friday's blizzard.
Next up was the over-ear RHA SA950i. I'm not the kind of person to use over-ear 'phones in public, but if I were, I'd be interested in these.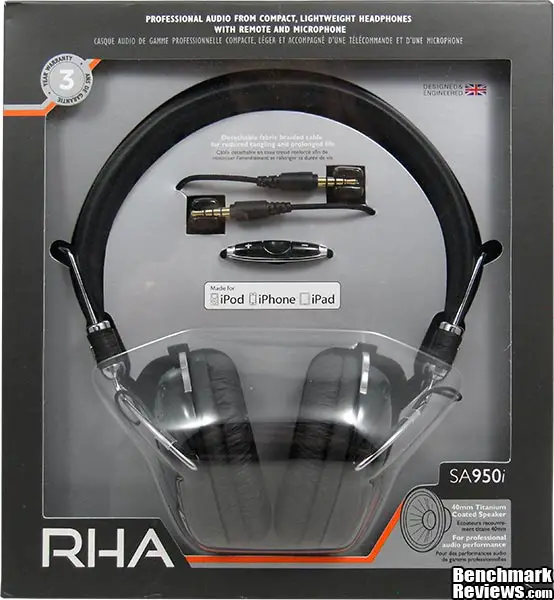 Bass response is little more aggressive (a touch of boom?) which attenuates the highs somewhat and smooths out the mid-rangey-ness out quite a bit. They come with the braided fabric cord, which is also detachable for storage. Just be forewarned: there isn't a storage bag for the 'phones or the detachable cable. Nor do they fold up into a tiny package for easy storage in a pocket.
The SA950i's are quite like–105g–and fit comfortably on my head. They're made with a lot of aluminum–sorry, aluminium–bits, so they appear to be quite durable.
There are a million headphones and earbuds to choose from, so RHA operates in a crowded market. It would be a shame if you didn't at least consider these two models the next time you have to walk the dog to Starbucks on a Sunday afternoon.