Rickrolling Has Become Nickelbacking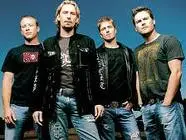 In certain parts of the United States, "Kroegering" means shopping at a specific grocery store. Online, though, it's beginning to mean something else.
If you come across a link labeled "Secret Tumblr Tricks," you just might be inclined to give it a click. Just be forewarned that it's very possible you'll soon be involuntarily watching the video for Nickelback's "Photograph." (Maybe. See below*)
Call it "Kroegering" or "Nickelbacking," such links are now spreading on the Interwebs like faster-than-light neutrinos.
(*In case you'd like to try this on your friends/enemies, here's the link that most are talking about. However, if you click it–go on, it's safe–you'll find that Canada seems to be inoculated against this particular virus.)