Riot Fest Announces Lineup for Toronto Show
Yes, it's a tiny bit depressing to hear about a show in September when the trees haven't even budded yet, but because we have such a short window of opportunity for outdoor shows, all the announcements gotta get out there ASAP so people can make their plans.
The Toronto edition of Riot Fest (Sept 6-7) was announced today with tickets to go on sale Saturday at 10am.
Here's the poster.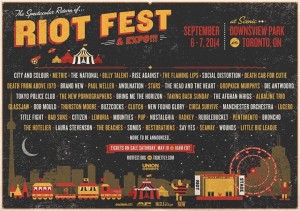 If for some reason you can't read that, the lineup is:
City and Colour, Metric, The National, Billy Talent, Rise Against, The Flaming Lips, Social Distortion, Death Cab for Cutie, Death from Above 1979, Brand New, Paul Weller, AWOLNATION, Stars, The Head and the Heart, Dropkick Murphys, Die Antwoord, Tokyo Police Club, The New Pornographers, Taking Back Sunday, Bring Me the Horizon, The Afghan Whigs, Alkaline Trio, Glassjaw, Bob Mould, Thurston Moore, Buzzcocks, Clutch, New Found Glory, Circa Survive, Manchester Orchestra, Lucero, Title Fight, Bad Suns, Citizen, Lemuria, Mounties, PUP, Nostalghia, Radkey, Rubblebucket, Pentimento, Broncho, The Hotelier, Laura Stevenson, The Beaches, Somos, Restorations, Say Yes, Seaway, Wounds, Little Big League.  More is coming, apparently.
I should point out that the official name of the event is "Riot Fest & Expo."  The next stop in Chicago (September 12-14) is "Riot Fest & Carnival" with the third and final stop in Denver (September 19-21) is "Riot Fest & Sideshow."
Feel free to chat about it on the official Facebook page.