Small music venues have been under pressure from rising rents and gentrification, forcing many to close. Then along came COVID-19 threatening to finish the job.
Sneaky Dee's has been sitting on the corner of College and Bathurst (431 College, to be exact) in Toronto for decades. The 24-hour restaurant was appreciated. The nachos? Awesome.
And quite a few bands played the 200-person-capacity basement. Cowboy Junkies. Broken Social Scene. Feist. Tons of hardcore acts. Cancer Bats and Fucked Up have menu items named after them. So does Lights.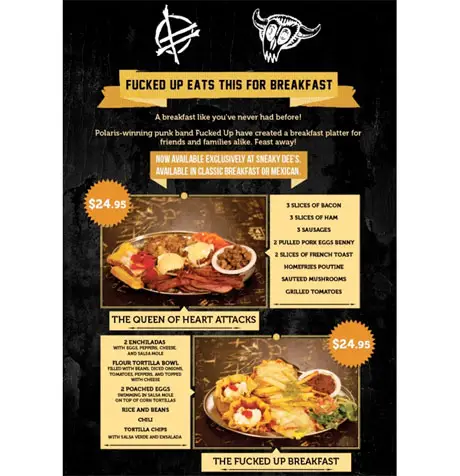 But now there's a development proposal to build a 13-storey condo on the space occupied by 419 to 431 College. It includes 169 residential units with retail and business storefronts at street level.
Forgotten is the fact that Sneaky Dee's has already moved once. The original location opened in 1987 a few blocks north at 562 Bloor across from the former site of Honest Ed's, drifting down to its current spot in 1990. Could its owners move again? We'll see. Might the developer agree to include a rebuilt Sneaky Dee's as part of the construction like we're seeing down the block with the Silver Dollar. Perhaps. Fingers crossed.
For more on the history Sneaky Dee's, go here.