Rivoli To Host Photo Exhibit
This looks to be an interesting photo exhibit being hosted by the Rivoli and called In View.
In View is a photo exhibition which reviews that past year in music by pulling together the work of nineteen of Toronto's finest photographers including: Vanessa Heins, Dustin Rabin, Jess Baumaung, Kate Killet and Louis Mora. In View takes place at Rivoli (332 Queen Street West) for one night only on December 19th from 8:00PM. The show is open to the public and is free to attend.
"It has been a difficult and confusing year to say the least but attempting to understand through creativity and art always brings a beautiful sense of togetherness," says Heins. "In View showcases the year in music through nineteen sets of eyes and not only celebrates the voices in the images but also those capturing these moments in time."
The list of photographers is below: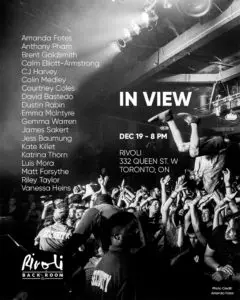 If you get a chance this looks to be worth your time. Rivoli is located at 332 Queen Street West.