Robin Thicke Album Sales So Low It Looks Like a Typo [UPDATE ON THE UPDATE]
At this point last summer, we couldn't get away from Robin Thicke's "Blurred Lines."  That single (and the album from whence it came) was annoyingly ubiquitous.  However, it appears we shan't be troubled by anything similar from Robin's new album, Paula.
In case you're unaware of the melodrama surrounding its release, Paula was conceived as a here-are-my-balls-on-a-platter apology to his estranged wife (no guesses as to her name, okay?)  Perhaps this music would win her back.
I'm not really sure how the wooing is going, nor do I care.  But what I did find interesting is that Paula sold 530 copies in all the UK in its first week in the stores.  No, that's not a typo.  Five hundred and thirty copies.  Physical and digital.  Put another way, that's 2% of the total sales of Blurred Lines in its first week.
Well, what about America?  Paula debuted in the Top 10–#9, actually–which sounds promising at first.  Then you look at the raw number: just under 24,000 copies.  In a country of 310 million.
Here in Canada, Paula shows up at #73 with exactly 552 copies.  At least that's better than Britain.
Then there's Australia, a nation of 23 million.  In its first week in the stores, Paula sold 54 copies.  FIFTY-FOUR.
UPDATE: The Australian information is apparently quite false.  According to ARIA, the organization that tracks sales in Oz, this week's numbers won't be available to anyone until 7pm Saturday night Sydney time.  In other words, don't take this figure as gospel.  At least not yet.
Meanwhile, 1-800-FLOWERS has come up with a cool promo on the back of all this.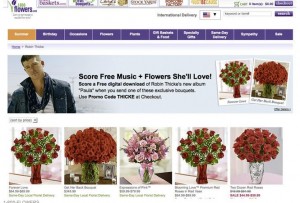 I quote from the Forever Love bouquet:
Whether you're looking to get the attention of a certain someone or letting her know she's always in your heart, you can't go wrong with a fresh bouquet of premium long-stem red roses. Inspired by the music of Robin Thicke, they're hand-designed by our expert florists and arranged in a ruby red vase to help you express your feelings in the most romantic way possible.
If you want to even bigger, may I suggest the Get Her Back bouquet:
Looking for a guaranteed way to get her back? Send our lush and luxurious bouquet of 100 romantic premium long-stem red roses! Inspired by Robin Thicke's hit single, this spectacular rose arrangement is artistically hand-designed by our expert florists to help you express your feelings perfectly. We're sure she'll get the message.
Lest we forget, this is how Robin spent last summer.
(Via UPROXX and others)