Rock is dead? Not according to this global survey of market share
There's been plenty of "rock is dead" nonsense floating about, most of it generated from within the United States. This is understandable, really, since hip-hop has eclipsed rock as a primary driver of culture when it comes to music.
This does not mean that rock is necessarily less popular; it's just that hip-hop, rap and R&B have exploded and become much, much bigger.
But if we look at things on a global scale, we gain a different perspective.
New research from Music & Copyright (via their Ovum newsletter) breaks down the world market share of musical genres like this.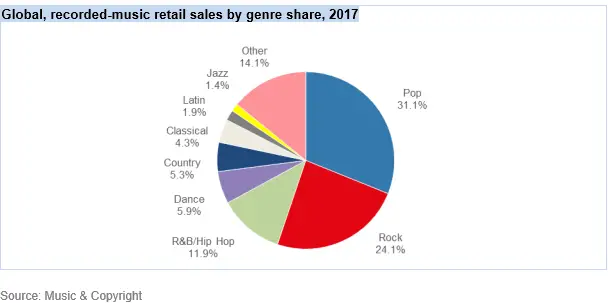 To be clear, though, the study also shows that retail sales of hip-hop and R&B jumped 24% in 2017, increasing its global market share from 10.4% to 11.9%, a nice increase. But rock spending also increased by 2.5% to a world level of $5.12 billion (vs $2.59 billion for hip-hop and R&B).
What's driving the growth of hip-hop and R&B? Streaming. On occasion, hip-hop and R&B have a streaming share that is double that of traditional sales.
Still, let's not bury rock just yet, shall we?