Rock My World Canada, Chapter 1: 54-40's Selection EP
[Mike Carr has put together a massive volume on Canadian music history. It's an incredible discography of hundreds of bands. Starting today, he's going to provide excerpts from his book. – AC]
54•40 is an alternative rock group from Tsawwassen, British Columbia. The band takes their name from the slogan "Fifty-Four Forty or Fight!", coined to express the unsuccessful expansionist agenda of James K. Polk's presidency, intent upon controlling a contested U.S.-Canada border area in the Oregon boundary dispute.
The group formed in 1981 as a trio consisting of Brad Merritt (bass), Ian Franey (drums), and Neil Osborne (vocals/guitar). They made their recording debut that same year, with four tracks on the independent compilation LP Things Are Still Coming Ashore, which also featured music by Vancouver bands Animal Slaves and Junco Run. The following year, the band issued the EP Selection.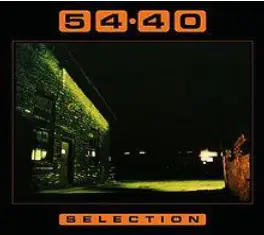 Find out more about 54 40 and hundreds of other Canadian artists in the softcover edition of Canadian Alternative & Indie Reference and Collector's Guide. Get your copy here.
Follow on Facebook and Twitter, too.