Rock My World Canada, chapter 142: The Deep Dark Woods
[Mike Carr has created a catalogue/reference work featuring all kinds of Canadian rock and alternative releases from the past few decades. Check out his a massive volume on Canadian music history entitled Canadian Alternative & Indie Reference and Collector's Guide. It's an incredible discography of hundreds of bands. See below to see how you can help him achieve this.– AC]
The Deep Dark Woods are an alternative country band from Saskatoon, currently signed to Sugar Hill Records in the United States and Six Shooter Records in Canada. First established in 2005, the band consists of singer and guitarist Ryan Boldt, bass guitarist Chris Mason, organist and pianist Geoff Hilhorst, lead guitarist Clayton Linthicum and drummer Lucas Goetz. Founding member Burke Barlow played guitar until 2012 when he left the group and was replaced by Clayton Linthicum. Founding Member Lucas Goetz left the group in late 2014, after which the band went on hiatus. In 2017 Chris Mason officially left the group.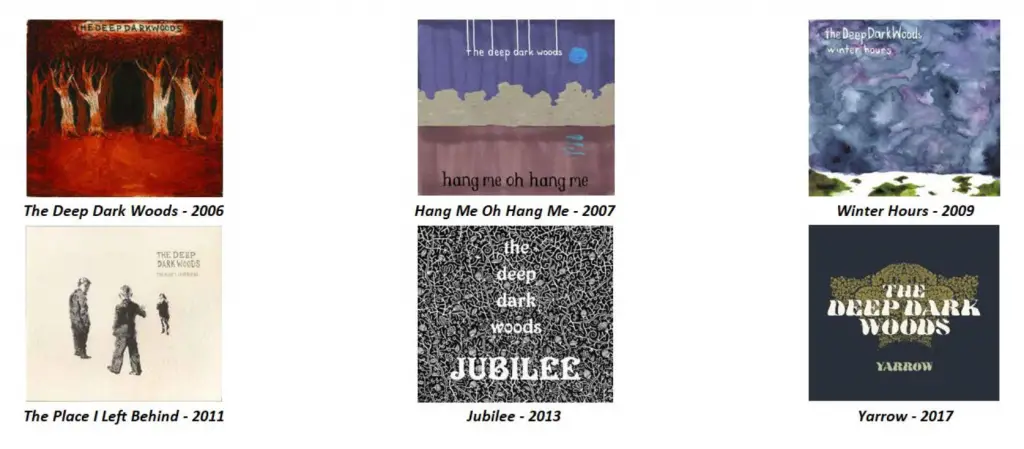 Find out more about this artist and hundreds of other Canadian artists in the softcover edition of Canadian Alternative & Indie Reference and Collector's Guide. Get your copy here. Follow Mike on Facebook and Twitter.
Help Mike continue his work by becoming a Rock My World Canada Patreon patron. Support Canadian music history!