Rock My World Canada, chapter 173: SNFU
[Mike Carr has created a catalogue/reference work featuring all kinds of Canadian rock and alternative releases from the past few decades. Check out his a massive volume on Canadian music history entitled Canadian Alternative & Indie Reference and Collector's Guide. It's an incredible discography of hundreds of bands. See below to see how you can help him achieve this.– AC]
SNFU is a hardcore punk band formed in 1981 in Edmonton, and relocated to Vancouver in 1992. The band has released ten full-length albums and have been a formative influence on the skate punk subgenre. Their work has on occasion been included in rankings of the best Canadian music. Their 1985 debut album …And No One Else Wanted to Play has remained influential in underground circuits. They grew in popularity following two further studio albums, but disbanded in 1989 due to internal tensions. The group is fronted by the eccentric singer, lyricist, and artist Ken Chinn, credited as Mr. Chi Pig. Founding members and twin brothers Brent and Marc Belke helped create the band's melodic hardcore punk sound with dual guitar work before their departures in 1998 and 2005, respectively. Nearly 30 musicians have played in the group, with only Chinn remaining constant.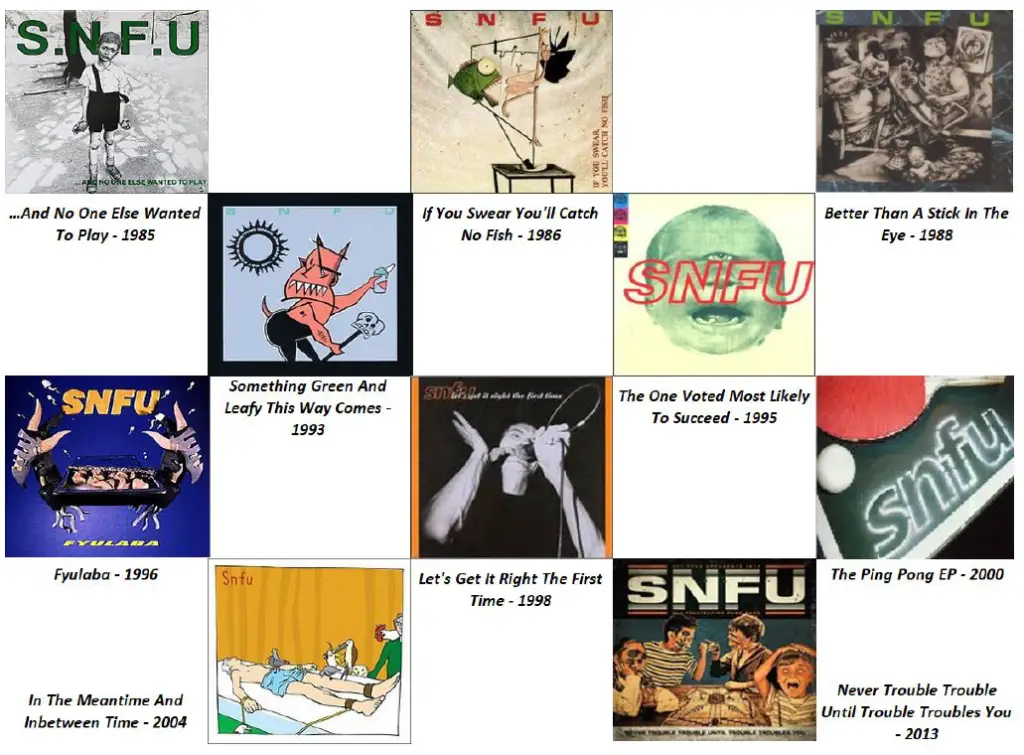 Find out more about this artist and hundreds of other Canadian artists in the softcover edition of Canadian Alternative & Indie Reference and Collector's Guide. Get your copy here. Follow Mike on Facebook and Twitter.
Help Mike continue his work by becoming a Rock My World Canada Patreon patron. Support Canadian music history!