Rock My World Canada, chapter 184: Ghoulunatics
[Mike Carr has created a catalogue/reference work featuring all kinds of Canadian rock and alternative releases from the past few decades. Check out his a massive volume on Canadian music history entitled Canadian Alternative & Indie Reference and Collector's Guide. It's an incredible discography of hundreds of bands. See below to see how you can help him achieve this.– AC]
Ghoulunatics is a death metal band , originally from Montreal , Quebec . It is one of the heavy metal underground groups that give the most concerts throughout the province of Quebec and Ontario. Ghoulunatics was formed in 1994 in Montreal by the merger of two groups, Crypt Keeper and Leprocy. The group name refers to the nickname given to the comic characters of EC Comics , The Vault Keeper, The Old Witch and The Crypt Keepers. They released their first demo in cassette format, Mystralengine , a year later, in 1995 . The latter will be followed in 1998 by their first studio album, Carving into You .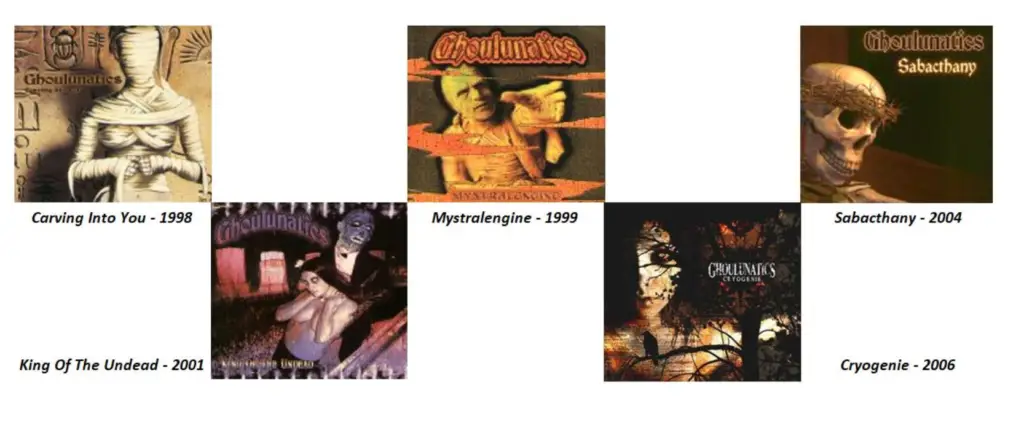 Find out more about this artist and hundreds of other Canadian artists in the softcover edition of Canadian Alternative & Indie Reference and Collector's Guide. Get your copy here. Follow Mike on Facebook and Twitter.
Help Mike continue his work by becoming a Rock My World Canada Patreon patron. Support Canadian music history!