Rock My World Canada, chapter 191: Odds
[Mike Carr has created a catalogue/reference work featuring all kinds of Canadian rock and alternative releases from the past few decades. Check out his a massive volume on Canadian music history entitled Canadian Alternative & Indie Reference and Collector's Guide. It's an incredible discography of hundreds of bands. See below to see how you can help him achieve this.– AC]
Odds are an alternative rock band. The band was formed in 1987 in Vancouver, British Columbia, consisting of vocalist-guitarists Craig Northey and Steven Drake (both of whom had led different bands appearing on a Vancouver music compilation album, Spotlight '86), bassist Doug Elliott and drummer Paul Brennan. The band members claim the name came when Brennan asked Drake, in a town somewhere on the BC coast, "What are the odds of us ever escaping bullshit gigs like this?" The band was nominated for a Juno in 1994 for Best New Group.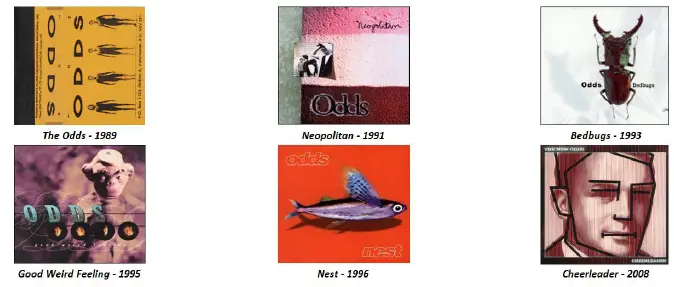 Find out more about this artist and hundreds of other Canadian artists in the softcover edition of Canadian Alternative & Indie Reference and Collector's Guide. Get your copy here. Follow Mike on Facebook and Twitter.
Help Mike continue his work by becoming a Rock My World Canada Patreon patron. Support Canadian music history!