Rock My World Canada, chapter 76: Guy Belanger
[Mike Carr is determined to create a catalogue/reference work featuring all kinds of Canadian rock and alternative releases from the past few decades. Check out his a massive volume on Canadian music history entitled Canadian Alternative & Indie Reference and Collector's Guide. It's an incredible discography of hundreds of bands. – AC]
As early as 1974 Guy Bélanger's musical career was heading towards traditional Southern blues. Armed with his harmonica belt, he made friends with fellow Quebec bluesman Bob Walsh who initiated him to the roots of blues and immersed him in the thriving music scene in Quebec City.
The first album released under his own stewardship received wide critical acclaim in 2008. This was followed by his second album "Crossroads" in 2010, "Dusty Trails" (2012) "Blues Turn" (2014), and now by his latest release "Traces & Scars" in March 2017.
To date, Guy Bélanger has been awarded no less than 14 Lys Blues trophies and won 2 times the prestigious "Harmonica Player of the Year" in Canada presented at the Maple Blues Awards.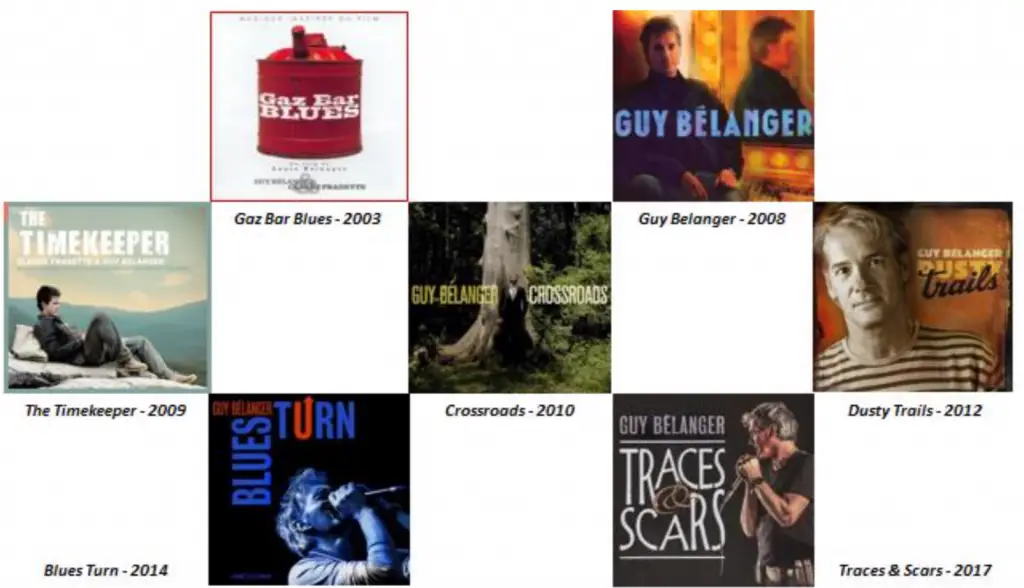 Find out more about this artist and hundreds of other Canadian artists in the softcover edition of Canadian Alternative & Indie Reference and Collector's Guide. Get your copy here. Follow Mike on Facebook and Twitter.