Rock & Roll Hall of Fame Reveals Newest Inductees
Say what you will about the Rock & Roll Hall of Fame – who deserves to be in and what not – their just-announced Class of 2019 seemed to have got it right so to speak, finally.
This batch of recruits is historic in many ways. Seven performers will be inducted at the 34th annual ceremony on March 29, returning to Brooklyn's Barclays Center after a one-off in the Hall's hometown of Cleveland earlier this year. Stevie Nicks becomes the first female to be acknowledged twice, the other occasion having happened in 1998 with that Fleetwood Mac band you've probably heard about. Also for the first time if I'm not mistaken, two women are part of the same induction class; her first name ain't baby, it's Janet, Miss Jackson if you're nasty.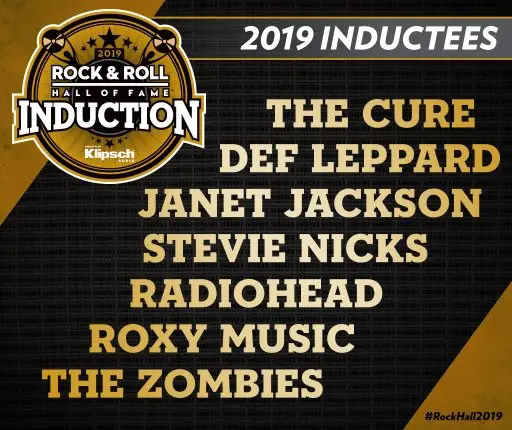 The Zombies made it on the fourth try thanks to a tour that celebrated 50 years since the release of landmark album Odessey and Oracle. You know, the one with "Time of the Season". Def Leppard and The Cure are still going strong, with worldwide plans for 2019 well in motion once their plaques go up. It'll be interesting to see what transpires with Roxy Music, who haven't performed as an entity since "For Your Pleasure" featuring Brian Eno closed the band's last-ever concert in 2011. Well, for now at least. And last but certainly not least are the enigmatic Radiohead, who sincerely thanked "the Hall of Fame voting body and extends congratulations to this year's fellow inductees". 
Radiohead's reaction is much humbler than the one I thought they'd give, "We Were Inducted Into the Rock & Roll Hall of Fame, and All We Got Was This Lousy T-Shirt". Which you can order here by the way as you wait for the ceremony to be broadcast on HBO sometime in the Spring.