Rolling Stone finally launches its own music charts.
Earlier this year, Rolling Stone announced they were going to begin publishing a series of music charts in a direct challenge to Billboard, which has been THE resource by which the industry keeps score.
After months of delays, the first Rolling Stone charts were published yesterday (July 2), listing the Top 100 Songs, Top 200 Albums, Artists 500 (the most streamed artists), Trending 25 (the hottest new songs of the moment), and Breakthrough 25 (the fastest-rising artists of the month),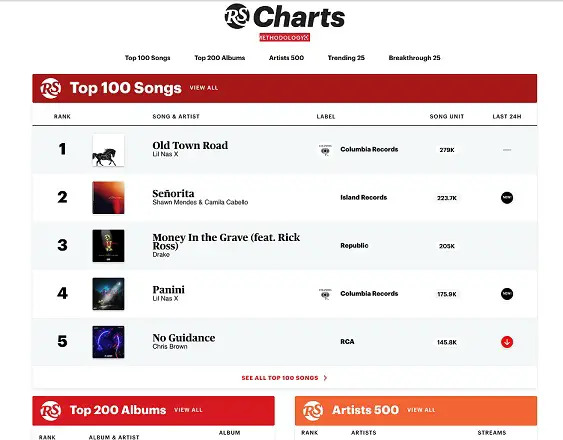 So how are these charts compiled? I quote:
"The RS Charts are powered by our independent analytics company Alpha Data, formerly known as BuzzAngle Music, which collects and processes data from dozens of major suppliers. All five of these charts auto-populate in almost real-time on a daily basis, with finalized overviews available at the end of each week."
All right, so what's better about these charts?
It's interesting that these charts are compiled in real time. When it comes to Billboard and SoundScan, you need a subscription to acquire a lot of this data.
The Top 100 songs are based on streaming and music purchases in the US. Unlike Billboard, the RS chart will not count passive listening like song plays on the radio. The Top 100 will be finalized for the week on Thursday nights.
The Top 200 albums use data from sales and streams of both albums and songs. This chart will be finalized on Mondays.
Artists 500 is about streams, period. No radio play is tallied.
The Trending 25 are the songs which have seen the greatest gains in popularity. This chart is updated daily.
The Breakthrough 25 looks at new artists who are making big gains. It measures the rise of artists, not songs.
You can look at Rolling Stone's first-ever charts here.