Roxodus Music Festival announces sale of single-day passes
Roxodus, the massive four-day (July 11-14) music festival that will debut at Edenvale Airport northwest of Barrie, Ontario, has just announced the availability of single-day passes starting at $99.
Can't make it for the full weekend? Then just pick the day(s) you'd like to go.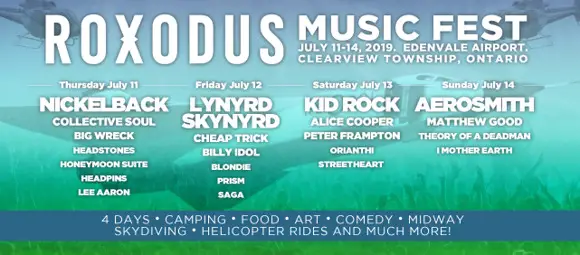 Day 1 (Thursday, July 11): Nickelback, Collective Soul, Big Wreck, Headstones, Honeymoon Suite, Headpins, Lee Aaron.
Day 2 (Friday, July 12): Lynyrd Skynyrd , Cheap Trick, Billy Idols, Blondie, Prism, Saga
Day 3 (Saturday, July 13): Kid Rock, Alice Cooper, Peter Frampton, Orianthi, Streetheart
Day 4 (Sunday, July 14): Aerosmith, Matt Good, Theory of a Deadman, I Mother Earth.
Single day tickets can be purchased here.
Need a ride? Roxodus has partnered with Bus.com to run shuttles to and from the festival. Routes include Toronto, Barrie, Orillia, Mississauga, Alliston, Collingwood and Wasaga Beach. Shuttle information and prices can be found here.
Complete festival information can be found here.