Rumours Build for Record Store Day Releases. Is the Nirvana Holy Grail Among Them?
Although we won't get the full list of releases for this year's Record Store Day until March 20 (the event itself is April 19), there are plenty of rumours.
One has to do with a 7-inch of Nirvana's "Pennyroyal Tea," which was originally withdrawn as a single back in the spring of 1994.  Why?  Because the other track was "I Hate Myself and Want to Die."
You see where this is going, right?
From what I know of this ultra-collectible, the original was only manufactured in Germany and a few might have been shipped to retailers before the recall.  There were apparently some promo versions distributed on CD in the UK, too.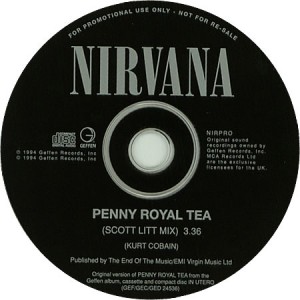 Sleeves were made for the 7-inch in England but the label insists that the vinyl itself was never manufactured.  That's why although you may have seen artwork for the 7-inch and cassette single, the actual 7-inch and cassette were never made. Or so they say.
The label recalled everything and destroyed everything they could, but like with all these sorts of situations, a number of copies mysteriously disappeared.
So is this reissue coming?  Like I said, we'll see March 20. (Thanks to Alan for the tip.)