Rush Readies 40th Anniversary Edition of A Farewell to Kings
[Rush is slowly but methodically reissuing all their albums as new expanded editions. Intern-in-residence Dorothy Lee looks at what's happening with A Farewell to Kings. – AC]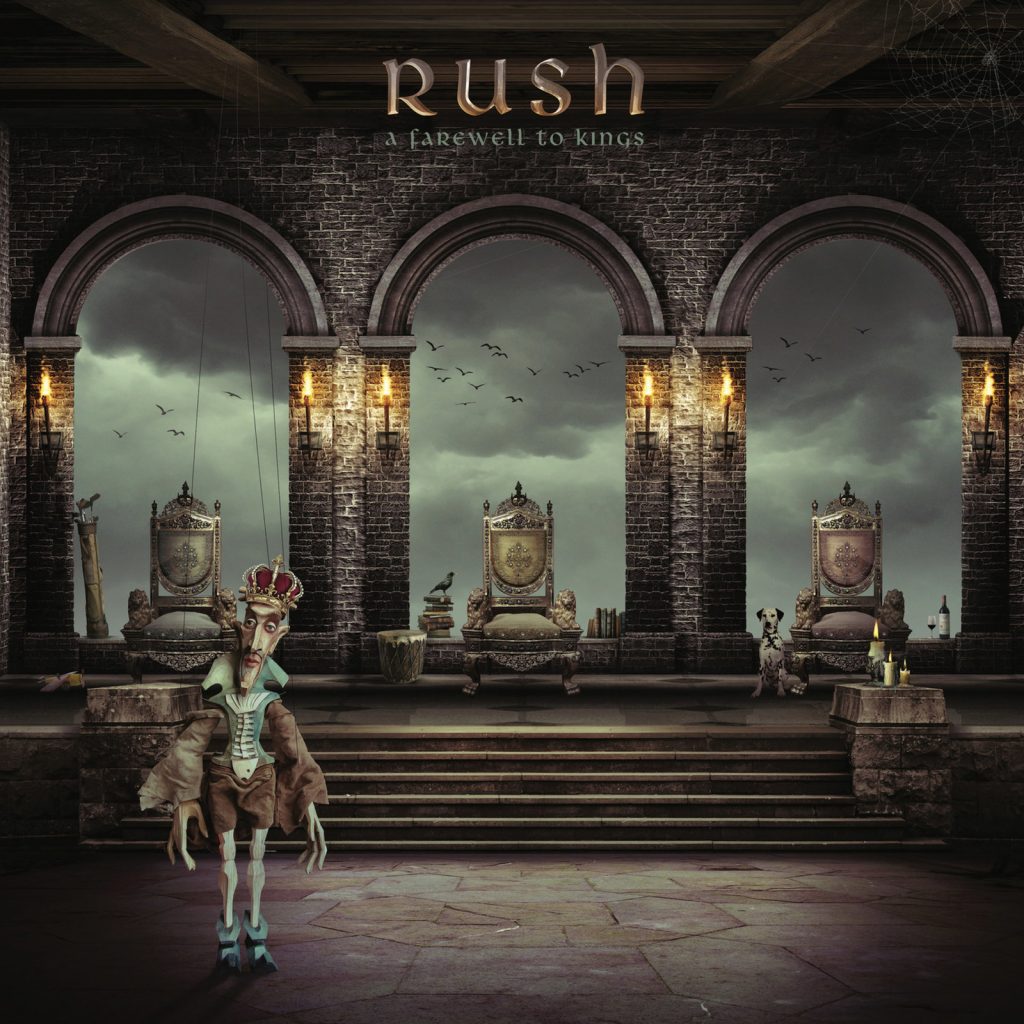 September 1st marked the 40th anniversary of A Farewell to Kings, the fifth studio album by legendary Canadian rock band Rush. In celebration of the anniversary, the band will be releasing a 40th anniversary edition which will be available on December 1st, and is also available for pre-order here.
The 40th anniversary reissue will be available in four configurations:
1) Three-CD Deluxe Edition
2) Four-LP Deluxe Edition
3) Super Deluxe Edition (includes three CDs, four LPs, a Blu-ray audio disc with a new 5.1
surround mix of the album and three 1977 promo videos)
4) Deluxe Digital Edition
Each will include the 2015 remastered version of the album and a complete concert recording from February 1978 at London's Hammersmith Odeon with some previously unreleased performances. The reissue will also include new cover versions of four songs from the album by Dream Theater, Big Wreck, the Trews and Alain Johannes.
Rush will also be releasing a new seven-inch single on November 24th for Record Store Day's annual Black Friday event. It will feature "Closer to the Heart" and "Madrigal" with a custom large-hole adapter and new artwork. Also, Big Wreck's cover version of "Closer to the Heart" will be available to Canadian rock radio in support of the Record Store Day 7 inch and 40th anniversary releases.
Grammy-winning rock historian Rob Bowman also provided 12,000 words in liner notes for the 40th anniversary reissue. In his liner notes, Bowman describes the album as: "the beginning of Chapter Two" for Rush. "No longer was the majority of the record dominated by the sound of a power trio. A more mature Rush now embraced a wider sound palette using synthesizers, Taurus bass pedals, classical guitar, tubular bells, temple blocks and orchestral bells to create greater contrast and color within their compositions. Yet, when desired, Rush continued to deploy the intensity, ferocity and power that they were justifiably known for."
Here is the track list for Rush's 40th anniversary reissue of A Farewell to Kings:
Disc One – Original Album
"A Farwell to Kings"
"Xanadu"
"Closer to the Heart"
"Cinderella Man"
"Madrigal"
"Cygnus X-1"
Disc Two – Live at Hammersmith Odeon, February 20, 1978
"Bastille Day"
"Lakeside Park"
"By-Tor & the Snowdon"
"Xanadu"
"A Farewell to Kings"
"Something for Nothing"
"Cygnus X-1"
Disc Three – Live at Hammersmith Odeon, February 20, 1978
"Anthem"
"Closer to the Heart"
"2112"
"Working Man"
"Fly By Night"
"In the Mood"
Drum solo
"Cinderella Man"
Covers
"Xanadu" – Dream Theater
"Closer to the Heart" – Big Wreck
"Cinderella Man" – The Trews
"Madrigal" – Alain Johannes
"Cygnus X-2 Eh"
Disc Four – Blu-ray audio
"A Farewell to Kings"
"Xanadu"
"Closer to the Heart"
"Cinderella Man"
"Madrigal"
"Cygnus X-1"
1977 Promo Videos
"A Farwell to Kings"
"Xanadu"
"Closer to the Heart"

Buy Lexapro online
Nexium no prescription
buy Tadalafil no prescription