Rush's Alex Lifeson vs Jay-Z (And Some 2112 News)
Your poster of the week.
On the 2112 front, the new expanded reissue of Rush's landmark album from 1976, will be out on December 18. I've heard the digitally remastered tracks and they sound amazing.
Here's what to expect: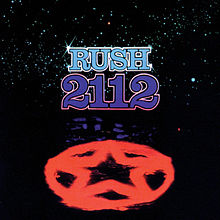 First, there's the two-piece deluxe edition. It comes with a cd featuring digitally remastered version of the original album plus three bonus live tracks:
–2112 Overture (recorded live at Northland Coliseum in Edmonton, June 25, 1981)
–The Temples of Syrinx (also from that Edmonton show)
–A Passage to Bangkok (Manchester Apollo, Manchester, England, June 17, 1980)
The second disc is DVD-Audio. It's meant to be played in your home theatre system . Full 5.1 surround, naturally. (For the geeks: 48kHZ/24-bit Dolby Digital for DVD-Video players)
It also comes with a digital comic book formatted for widescreen TVs. Plus a photo gallery with pictures no one has ever seen before plus Neil Peart's handwritten lyrics. There's also new artwork (created by Hugh Syme, the guy who created the "starman in the pentagon" back in the day) and expanded liner notes from David Fricke of Rolling Stone.
Or you can go with the Blu-ray deluxe edition. This has everything the regular deluxe version has except with a Blu-ray disc for extra crispness.
And finally, there's the super-deluxe edition. It's all that plus a hardbound book featuring a 40-page comic book and a 24 page book with all kinds of extra artwork and liner notes and photos and lyric sheets.
Bottom line is that if you're serious about sound and you're serious about Rush, you gotta have one of these packages. Even The Guardian agrees.