Saving AM Radio (Assuming It's Worth Saving)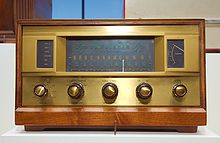 AM radio–amplitude modulation–was the earliest form of radio broadcasting. At more than a hundred years old, it's served us well. But like so many other analog technologies, it's past its prime. Maybe it's time to move on.
Don forwards this from the New York Times. The titel is "A Quest to Save AM Before It's Lost in the Static."
The digital age is killing AM radio, an American institution that brought the nation fireside chats, Casey Kasem's Top 40 and scratchy broadcasts of the World Series. Long surpassed by FM and more recently cast aside by satellite radio and Pandora, AM is now under siege from a new threat: rising interference from smartphones and consumer electronics that reduce many AM stations to little more than static. Its audience has sunk to historical lows.
But at least one man in Washington is tuning in.
Ajit Pai, the lone Republican on the Federal Communications Commission, is on a personal if quixotic quest to save AM. After a little more than a year in the job, he is urging the F.C.C. to undertake an overhaul of AM radio, which he calls "the audible core of our national culture." He sees AM — largely the realm of local news, sports, conservative talk and religious broadcasters — as vital in emergencies and in rural areas.
"AM radio is localism, it is community," Mr. Pai, 40, said in an interview.