A Search Engine for Beats? Yep.
Say you're a hip hop artist and you're looking for a beat similar to what you'd hear Kendrick Lamar use. Finding exactly what you want is hard. Stats say that the average artists listens to 172 instrumentals before purchasing something.  Outside of going through crates of records and CDs (or making up your own beats), where might you might inspiration?
That's where Tenuto.fm comes in. The site bills itself as a "search engine for beats" that provides rhythms in the variety of Lamar, Drake or whomever you plug into the search box.
Enter "Kanye West" and you'll get this: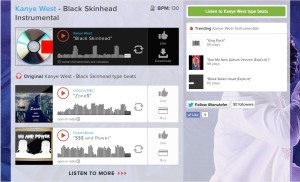 A search for Drake returns this:
Once you find what you like, drop it into your shopping cart and check out. Now you can then build your raps and songs on those original beats.
If you're a producer looking to offer up beats, you can do that, too. You get a cut of each sale.
The site current has nearly 38,000 original instrumental pieces with more being added every week.