Governments like to collect secrets. There are dossiers on thousands of things like the Cuban Missile Crisis and the Kennedy Assassination.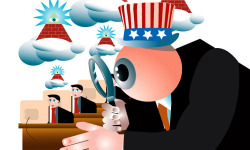 But get this. Back in the 70s and early 80s, MI5, the British secret service, became very concerned about the political and social effect some bands were having on the young people of Britain.
They compiled secret files on bands like the Sex Pistols and UB40 under the heading "Subversion in Contemporary Music." These files were thick with press clippings and reports from agents in the field who observed these bands and their fans.
MI5 was honestly worried that these groups were a threat to the political stability of the UK. Makes you wonder who they're spying on now.