Set.fm Wants to Help Artists Sell Instant Live Recordings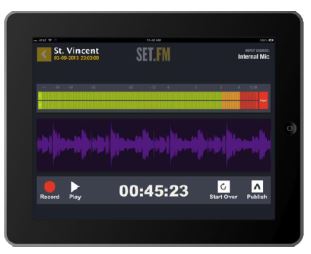 The first-ever instant live recording I ever bought was at the second show of the Pixies' 2004 reunion. I put in my order before the show and about 45 minutes after the lights went up, I picked up a freshly burned CD of the gig.  That was pretty magical back then.
But burning CDs is so 20th century.  There's gotta be a better way, right?
Set.fm thinks they have the answer.  From TechCrunch:
To use Set.fm, musicians pay their own production and venue fees, choose which recording solution to use (iPad, iPhone or desktop) and hit the record button once the show starts. Set.fm software will then stream the music from the soundboard, convert the analog signals into digital signals and encode the performance and metadata all in real time. Uploading and transcoding the show as it is recording allows fans to download the performance seconds after it ends.
Read more here.  You can also check out some of the artists who have used Set.fm on their homepage. (Thanks to Jeff for the link.)