Seven years for crying PharmaBro Shkreli
In a tearful moment of humanity, Martin Shkreli pleaded for mercy from a judge in a Manhattan courtroom Friday.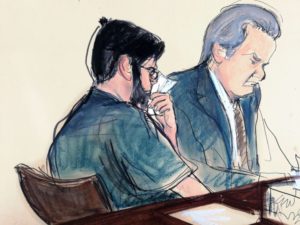 Prosecutors wanted to throw him away for at least 15 years after he was convicted of defrauding investors in two hedge funds he managed. His lawyers, on the other hand, wanted more like 12 to 18 months.
Judge Kiyo Matsumoto of the U.S. Federal District Court pointed to Shkreli's "egregious multitude of lies" when handing down the sentence, admitting he seemed "genuinely remorseful" but said he "repeatedly minimized" his conduct during and after the trial.
He'll be spending the next seven years in jail.
Of course, he wasn't likely to win many friends. This is the guy who bought the one and only copy of Wu-Tang's "Once Upon a Time in Shaolin," got into a stupid video fight with the band. This was after he spiked the price of a life-saving drug for AIDS patients.
So, yeah, not a ton of friends.
Then, if you can believe it, he told the judge during his sentencing hearing that he was "never motivated by money," according to the New York Times. He grew emotional and cried during his statement. "I wanted to grow my stature and my reputation. I am here because of my gross, stupid and negligent mistakes I made."
Earlier this week, Shkreli was informed he would have to essentially give up all his earthly possessions and pay back some $7.4 million in assets to cover his fraudulent activities. That includes the Wu-Tang album along with a Picasso.
And here's another little fun tidbit to come out of court today: as several publications reported, even Shkreli's lawyer often didn't know what to do with him.
Benjamin Brafman admitted he sometimes wanted to punch his client in the face.
"It's like the kids today who hit send before they really understand what they texted," he said, describing his client as a "misunderstood eccentric who used conventional means to make his defrauded investors even wealthier."
That's a point worth repeating: this sentencing and conviction have nothing to do with marking the price of a pharmaceutical up 5,000% and shrugging it off like some minor decision. And that should be highlighted repeatedly because it's gross. It's nasty, creepy, where-are-our-priorities-as-a-society gross.
Prosecutors wanted the judge to remember this, albeit indirectly.
"This was not an isolated lapse in judgement," said Assistant U.S. Attorney Jacquelyn Kasulis, according to the Washington Post. "This is four different fraud schemes in over five years… He has no respect for the law. We are not saying he is a bad person with a capital b. But these are not victimless crimes."
Kasulis added that Shkreli "wants everyone to believe he is a genius. That image is everything to him…He is no better than any other fraudster."