Why the Shift to Smartphones is a Threat to Radio
Edison Research presented some new findings about the relationship between smartphones and radio listening–and they point to a sobering future for terrestrial broadcasters.
The current estimate is that about 76% of the US population 12 and over has a smartphone. Yes, 93% of the popular reaches for their radios every week, but if you break that down, the same percentage of the population–93%–aged 12-24 reach for their smartphone every week.
Let's take that apart further. The study says that 68% of people aged 13-24 listen to audio on their smartphone on any given day. Compare that to 38% of those 25-54 and 11% 55-plus.
Now look at this graph. The more smartphones are sold, the higher monthly online radio listening–and that means audio, not just AM/FM. To reiterate, they use their phone for listening, not a standard radio which can't offer streaming, podcasts and all the other stuff a smartphone can.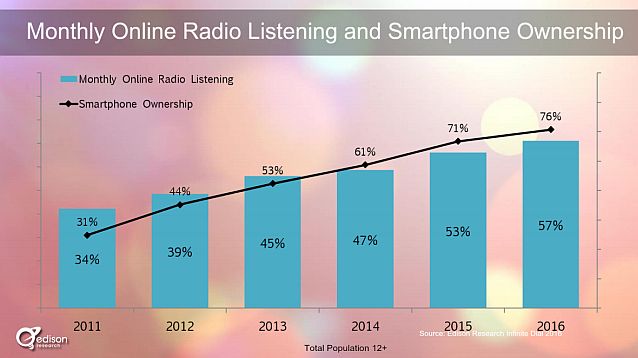 Bottom line is that the young generation considers their smartphones to be their entertainment hub for…well, almost all entertainment.
More at RAIN and All Access.