Shooting the Sh*t at 606 Studios with the Foo Fighters (And Arm Wrestling with Dave Grohl)
I spent Tuesday afternoon in Northridge, north of LA at 606 Studios, the home recording base of the Foo Fighters. I'd been invited to interview the whole band about anything and everything surrounding November's release of the Sonic Highways album along with next month's debut of the accompanying HBO series.
That interview along with details on the album will be unveiled shortly. Meanwhile, however, here are a couple of pictures from the day.
From the outside, the place doesn't look like much.
Across the street is a homeless mission. They travel LA with portable showers.
But looks are deceiving. The inside is gorgeous, decorated with all kinds of vintage band posters (a lot of which seem to involved Black Flag. A LOT.),  Foo Fighters awards, a series of classic stand-up video games (Tempest!) and a photo booth.
Here's the control room, complete with the famous console Dave rescued from Sound City Studios.
Taylor Hawkins is a MASSIVE Michael Jackson and Freddie Mercury fan. Here's how you can tell.
And somehow, Dave and I ended up arm wrestling. Long story.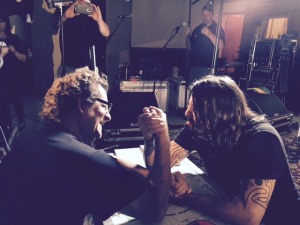 More to come. LOTS more.