Should be a good read: "Life on the road with the Wu-Tang Clan"
Inside access to the workings of the Wu-Tang Clan has been almost unattainable. Booking agent Chris McKee, who worked with several members of the band, is releasing his look at life on tour with this incredibly influential band.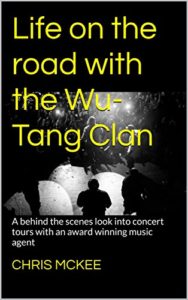 From the press release:
McKee worked with various members of the Wu-Tang for over 10 years and is ready to let
people see what really goes on behind the curtain while on tour with members of the Wu-Tang
Clan.
The book is both a window into the world of the Wu-Tang Clan as well as a teaching tool to
understanding the ins and outs of the music business. The book will feature stories about sex,
drugs, rock n' roll (or hip-hop) and murder.
Here's an excerpt on a breakfast meeting with Ghostface in Montreal:
"Before our breakfast meeting ended, Ghost had one other interesting request to ask of me. He
said, "Don't be putting me in any more hotels with French TV channels."
He continued, "I was trying to watch some TV last night and relax and whatever and every
channel was in French."
Ghostface added, "I can't have that in any of these other cities, so no more hotels with these
French TVs."
I stared back blank not knowing how to answer.
The thought occurred to me that this was a man who has travelled the world over at least a
dozen times. He has performed concerts as Ghostface and as a member of the Wu-Tang Clan on
probably every continent on the planet. Yet he hasn't figured out that when you're in a city or
country that speaks a different language that it is highly likely that the TV channels will probably
be in that very same language."
The book also includes the story of how of how a concert promoter (Matt 'Dutch' Garner) who
was involved with producing a concert for Ghostface Killah in Montreal was murdered a week
before the show.
"The thing about Montreal is that the line is blurred between certain parts of the entertainment
industry and criminals and gangsters; more so than any other city in Canada. In Montreal you
have to tread very carefully when you go about your business if you want to stay out of trouble.
I guess Dutch missed that memo.
Dutch was murdered two weeks before the Ghostface show in Montreal.
According to various news reports, assailants broke into his apartment on St. Henri and taped
Dutch and an associate to their chairs and set to the two of them on fire. Dutch was found dead
in his apartment on the chair but the second victim had tried to escape and made his way down a
flight of stairs onto the street while still ablaze where he eventually succumb to his injuries and
died on a neighboring lawn.
They have yet to arrest any suspects in the murder and the case remains open."
Sounds intriguing, no?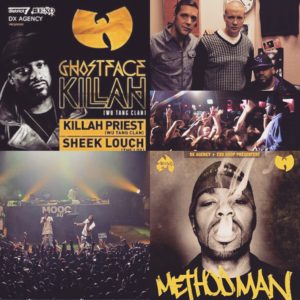 The book is out August 17th and you can pre-order it here.