The Show That Never Ends: An Upcoming Book on the History of Prog Rock
Coming June 13, David Weigel's book The Show That Never Ends gives a wildly entertaining story of Prog Rock and the musicians that succeeded. Weigel, a reporter for the Washington Post proves that he is just the person to tell the story, with his encyclopedic knowledge of this music and its history. In 2012, he wrote a hugely popular Slate series about the genre.
Since then, Weigel has spent his time reporting and expanding on that series to come up with this book. He scored inside access to all the key musical figures and behind-the-scenes stories of the rise and fall of this iconic genre, epitomized by mega-bands such as Yes, Genesis, Pink Floyd, Jethro Tull, and Emerson Lake & Palmer, plus their successors Rush, Styx, and Asia. This book is sure to make a prog-rock fan out of anybody.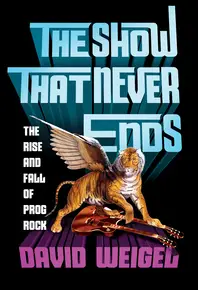 You can pre-order the book here.