Sing in the Car? Then You're Probably a Bad Driver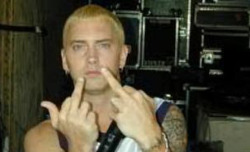 Why the picture of Eminem? Read the whole articleFrom SF Weekly:
A study released this week proves, once again, that there's nothing you can safely do while driving except drive.
According to the Accident Analysis and Prevention science journal, singing along with the radio while operating your motor vehicle is an accident waiting to happen. A group of Australian psychologists monitored 21 drivers between the ages of 18 and 55, watching specifically for how they reacted to dangers on the road while having a one-person dance party in the car.
So they concluded that, like texting, talking, and eating, belting out tunes while driving slows down your response time — and this is even truer for those of you who tend to speed.
Read the rest.  It might save your life–or someone else's. Or maybe this is just another example of some science boffins with their heads up their asses.