Singer Scott Weiland Dead: MORE UPDATES
[Note: The original title of this story was "Singer Scott Weiland Dead of an Overdose?," which was based on some early, early, early reports that were fed to me. As you'll see in the following paragraphs, the cause of death has not been confirmed, so the "of an Overdose?" part of the headline has been removed until more information is available. – AC]
Scott Weiland has died.
There was always the fear it would end up like this. The drugs. The alcohol. The bipolar behavior. The relationship issues. The domestic violence. The unwillingness to address all the problems and demons. And it finally came to an ignominious unglamorous finish in an anonymous bunk on a rented tour bus in the parking lot of a motel in snowy Minnesota. Whatever brought upon this death last night, it's very, very sad.
Scott Weiland was on tour with his band The Wildabouts. They were scheduled to play the Medina Ballroom, an entertainment complex northwest of Minneapolis Thursday night. Bandmates found him on the bus outside a Country Inn & Suites motel around 8 pm. Cops were notified of an "unresponsive male" at 8:22 pm.  When they arrived, Scott was declared dead. He was 48.
Did his body just give out from all the years of abuse? Was it some kind of undetected health problem? Could he have relapsed again in a Sid Vicious/Shannan Hoon way? There are still a lot of questions and, let's face it, suspicions. But at this point, we're being told that he died in his sleep, but the Hennepin County Corner is conducting an autopsy to determine the cause of death.
UPDATE: Immediate cause of death seems to have been cardiac arrest that may have been connected to an alleged crack binge in recent weeks. He'd also been drinking heavily. Weiland's wife refutes this.
UPDATE: Scott's bandmate in the Wildabout has been arrested on charges of cocaine possession.
UPDATE: A small amount of cocaine was found "nearby" Scott's body.
Here's the Facebook post: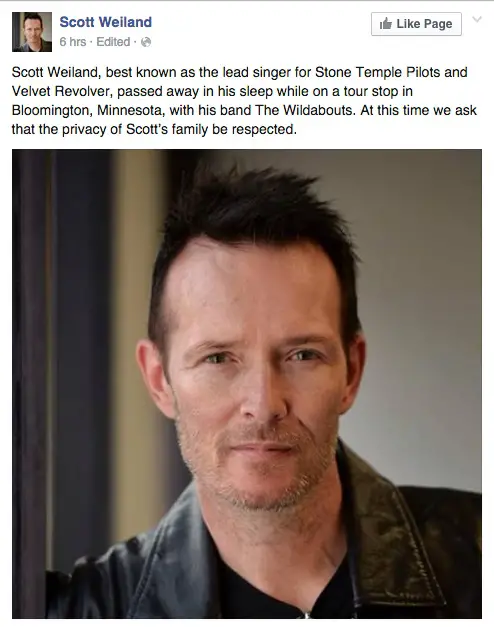 The same announcement appeared on Instagram.
On Friday afternoon, this appeared on the Stone Temple Pilots Facebook page.
If you saw the Wildabouts show in Toronto earlier this week, you saw Scott's last live performance. And if you heard the interview he did on 102.1 the Edge, you heard what might have been his very last interview.
And here's video of his last-ever performance Tuesday night at Adelaide Hall in Toronto.
I saw Scott perform perhaps a dozen times, mostly with Stone Temple Pilots but also with Velvet Revolver and on his own. As a frontman, he was one of the best. I recall one particular show back in the 90s–one of those Blind Date gigs sponsored by a brewery–where Weiland's command of the stage was breathtaking. With nothing more than a microphone, the clothes on his back and his charisma, his moves demanded that all eyes be on him. And frankly, you couldn't look away. It's hard to explain, but I left the show thinking that he was a true ROCK STAR.
Then there was the conversation with a label executive who was in charge of minding Scott for one show. He was with Scott in the dressing room as he changed from his street clothes into what he was going to wear onstage. "You could see and feel the transformation," he recalled, "With every new piece of clothing he put on, he transformed a little more into a rock star. By the time he was dressed, he was a different person, someone on a different level, ready to perform. It was amazing to watch."
On another occasion, I helped book a reunited Stone Temple Pilots for Edgefest at Downsview Park in Toronto. Scott arrived separately from his other bandmates–SOP in those days to help keep the fragile peace–and watched the show from the wings. Again I was amazed at his confidence and prowess as a performer. Dude was good. Certainly one of the best to emerge out of the Alternative Revolution of the 90s.
When it came to interviewing Scott, there was always a lot of trepidation going it. What Scott would you be talking to? Petulant Scott? Angry Scott? High/Drunk Scott? Bored Scott? Charming Scott? I was lucky in that I only spoke with the last two, but there was always a sense he might flip to one of the other personalities at any second. Check out this video interview I did with him about his clothing line, English Laundry. (Via Ira)
Behind it all was an army of personal demons. Drug abuse. The rehab stints that never took. The DUIs. The on-again, off-again membership in STP. The brawling egos in Velvet Revolver. The bad marriages. How long could he keep dancing with these devils before it came time to pay up? Now we know.
More as this story develops. Meanwhile, musicians are mourning Scott's passing, including Billy Corgan who wrote this lovely euglogy. Matt Sorum of Velver Revolver had this to say. Here's a statement from a record executive who worked with Scott. Fans are, of course, doing the same. Check out this remembrance Moe found on Reddit.