SLAYER is too scary for NASCAR. But the NRA is just fine.
Earlier this month, gearhead metal fans were thrilled to hear that the SLAYER logo would be plastered on car #54 for this weekend's NASCAR race in Bristol, Tennessee. That would have been freakin' cool for both the band, driver JJ Yeley and the Rick Ware Racing team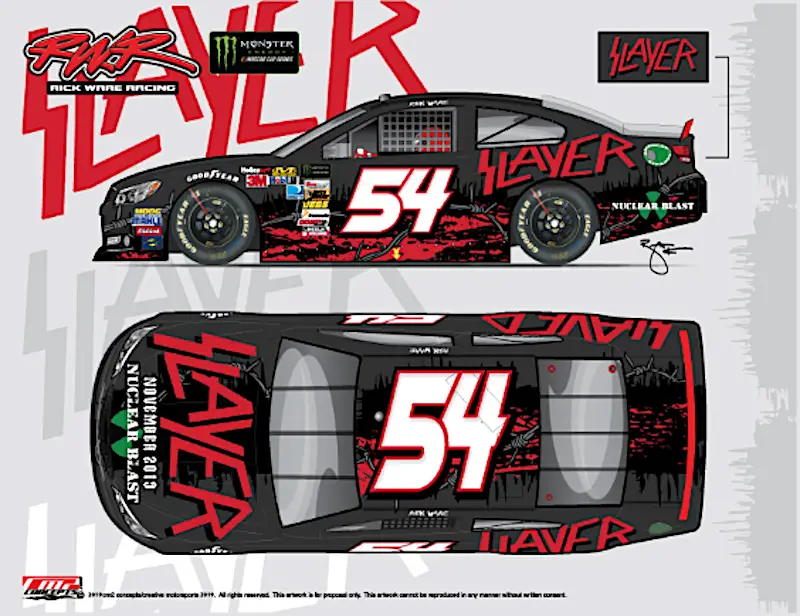 Yeah, it ain't gonna happen.
According to a SLAYER press release issued yesterday, the car has been pulled because of "reactionary concerns."
A statement issued today by the band's publicist reads, "Reportedly due to reactionary concerns from other long-time participating sponsors, Slayer has been pulled as the primary sponsor, and all Slayer signage has been removed from the car that was to be piloted by Monster Energy NASCAR Cup Series veteran, JJ Yeley. The incontrovertible PODS Moving & Storage will now sponsor that car.
 "After nearly 40 years, Slayer apparently remains as terrifying to some as ever."
What I find fascinating is that this race is called the Bass Pro Shops NRA Night Race. We can only interpret this as meaning NASCAR finds SLAYER more terrifying and dangerous than the National Rifle Association.
'Murica. Guns. The US South. Draw your own conclusions.