The SLAYER Sports Car! (No, Seriously…)
The Scion tC is a fun and cheap little sports car from Toyota's youth division that starts at about $22,000 CAD, which is a price point low enough for tuners and customizers to start with a brand new car. Which brings me to this: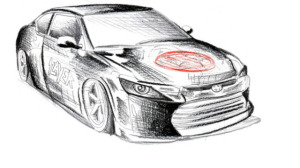 According to Classic Rock, a special edition Slayer model is in production and is expected to make its debut at November's Specialty Equipment Manufacturers Association show in Las Vegas.
The sound system will be awesome, of course. In fact, the whole thing is a multimedia machine on wheels. They're going to jam a 32-inch flatscreen in there somewhere, too.
Will it go into widespread production? Probably not. But metalheads can dream, can't they?