Sled Island Announces the Rest of 2013 Line-up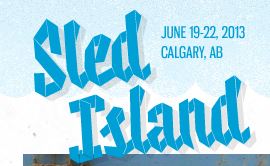 Over the last couple of years, Calgary's Sled Island has turned into something of a NXNE West with a cool selection of indie acts from across the continent and around the world. I went last year and had a really good time (except for the weather, but that wasn't their fault.)
This year's big gets include the Jesus and Mary Chain, Swans, Divine Fits, Superchunk, Jon Spencer Blues Explosion and Joel Plaskett Emergency.
Just added are The Thermals, Winnipeg's KEN Mode, Besnard Lakes and Suuns.
A full line-up of the festival (which runs at several dozen venues across the city from June 19-23) can be found here.