Sly Stone Plotting Comeback with All-Albino Band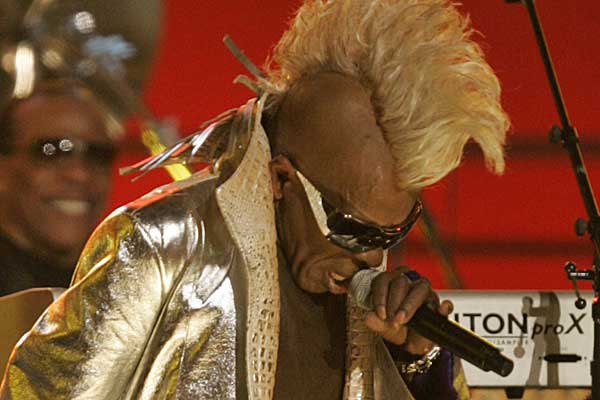 LA TimesYou read that right. From The Guardian.
It's a remarkable story for any band to live up to, but then Stone's new idea sounds pretty remarkable too. "You know what? I'm looking for albino musicians," he says. "My feeling about it is that it could neutralise all the different racial problems." At first I think I've misheard him, which is remarkably easy to do.
At 70, his voice is raspy and slightly slurred, perhaps the result of decades of hard living, or maybe something to do with a bizarre accident some years ago, when he apparently fell off a cliff in Beverly Hills while eating a plate of food: he declined to be treated for the injuries to his neck, a decision that has left him in constant pain unless he hunches over, his chin on his chest.
Coupled with a patchy mobile phone signal and a bad transatlantic line, I occasionally lose the thread of what he's saying entirely. But this time I've heard him loud and clear.
"To me," he continues, "albinos are the most legitimate minority group of all. All races have albinos. If we all realise that we've all got albinos in our families, it's going to take away from the ridiculous racial tension, if you're black or you're white, blah blah blah. That's why I've been trying to look for albino musicians and organise a group of people that are going to be right. That's what I've been rehearsing for. People will see us, all of us together – a real family, an albino family. People will get happy when they see that! People," he says firmly, "have got to be happy for that."