If Smartphones Existed in 1846, Siri Would Have Looked Like This
Tell me this isn't creepy.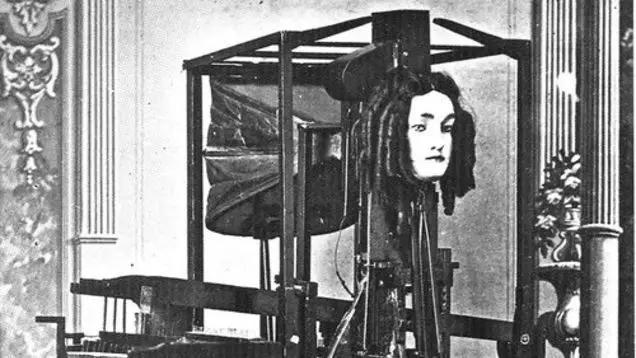 That's Euphonia, a text-to-speech invention that debuted in London by inventor Joseph Hall in 1846. For a shilling, Londoners were allowed to see and hear a machine that could replicate–well, sort of–human speech. From Atlas Obscura:
In the middle of the disheveled chamber sat a piano-like instrument topped with a female automaton whose face, framed with ringlet curls, stared vacantly into the crowd. Professor Faber, a shy German astronomer-turned-inventor, stood behind the keys of his device hoping desperately that the few people in attendance would be impressed by what he was about to show them.
The Euphonia was the product of 25 years of research and an undeniably impressive feat of engineering. Fourteen piano keys controlled the articulation of the Euphonia's jaw, lips, and tongue while the roles of the lungs and larynx were performed by a bellows and an ivory reed. The operator could adjust the pitch and accent of the Euphonia's speech by turning a small screw or inserting a tube into its nose. It was reported that it took Faber seven long years simply to get his machine to correctly pronounce the letter e.
Faber thought that his invention would revolutionize…something. It, however, did not. Read the rest of the story here.