Smashing Pumpkins Embrace the Bizarre at 30th Anniversary
The Smashing Pumpkins marked their 30th anniversary as a band on August 2nd, 2018. I'm scratching my head a little as to why they chose this particular date, let alone PNC Bank Center in New Jersey as its location; the first time Billy Corgan, James Iha, D'arcy Wretzky and Jimmy Chamberlin performed together was October 5th, 1988 at Chicago's Cabaret Metro.
Whatever the reason(s), the resown Pumpkins put on a star-studded affair featuring a cavalcade of alt-rock special guests as part of the ongoing Shiny and Oh So Bright reunion tour, crossing the border into Canada starting August 7th in Montreal. After a mélange of SP hits from four of their five classic era albums along with the odd Pisces Iscariot rarity, that's when the fun and weirdness began in earnest. Chino Moreno of Deftones joined them onstage for "Bodies" and "Snail", both of which hadn't been played in ages. The Killers' Dave Keuning and Mark Stoermer then came out to do mega-guitar versions of "Cherub Rock" and "1979". (I almost forgot that Stoermer toured with Billy, Jeff Schroeder and Rage Against the Machine's Brad Wilk behind 2014's Monuments to an Elegy!)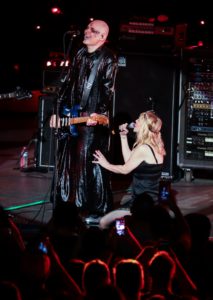 Remember when Sugar Ray were the bee's knees in 1997? Mr. Corgan obviously does or is in some kind of music time warp – How else can you possibly explain inviting Mark McGrath so as to cover "Fly" and "Breaking the Law" by Judas Priest? Alan Cross' old friend Courtney Love wearing what looked to be her Miss World tiara was up next for "Celebrity Skin", "Malibu" and the Pumpkins' "Bullet with Butterfly Wings". This at least makes a lick of sense as Billy had a hand in writing these songs for Hole, although the picture of Court on her knees beside what looks to be a cult leader of an Uncle Fester fan club doesn't.
Finally, "legendary and iconic" Joy Division and New Order co-founder Peter Hook (introduced as such by Iha) dropped in to visit his bassist son Jack Bates…and jam on "Age of Consent", "Transmission" and "Love Will Tear Us Apart". The latter two also had AFI's Davey Havok on vocals; I gotta say, I'm a tad disappointed "Miss Murder" or another emo-type cut from Decemberunderground wasn't contemplated in order to get to thirty setlist songs for Smashing Pumpkins' milestone anniversary!