Snooki Headphones? No No No No No No NO!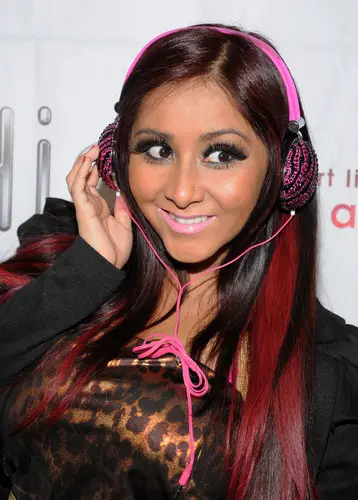 All manner of goofy gizmos are being showcased at the Consumer Electronics Show in Las Vegas this week.  This ranks as one of the, well, most rank.
Now that Jersey Shore is cancelled and Snooki has a new mouth to feed, she has to do something to stretch out her waning fame.  The answer seems to be to pimp out some headphones.
Working with a company called iHip (note self-evident irony there) Snooki's 'phones feature large flowers and bows.  She's also lent her name to a line of earbuds that look like gaudy earrings.
My style is very self-explanatory.  I like bling-bling. I like bows.  I like animal prints.  I like feathers.
Two questions:  (1) Who at iHip thought this was a good idea; and (2) who the hell is going to buy this shit?
(Via USA Today)
Related:  Celebrities and musicians desperate to pimp out headphones.