So how did yesterday's Foo Fighters livestream event go? Here's are two reviews.
[The Foo Fighters staged a pay-per-view event yesterday (November 14) and Eric Wilhite was there as a paying customer. Here's his review. – AC]
On Saturday night, November 14, 2020, I ordered my first live stream concert ever, and it happened to be from my all-time favorite band, the Foo Fighters. The ordering process was very smooth. Put on by No Cap Shows, I had the secure link sent to me via text, and they had a "digital sound check" to make sure everything was working. My set up in my living room was working great, so then all I had to do was tune in at showtime. And since I was at home, there was no line for beer or food.
The band had a Spinal Tap moment right at the beginning where they didn't realize the feed was live and Dave asked for a signal for when they would be live. He was surprised to hear the feed was already live. That seemed to be it for the snafus, though, and the Foos didn't show any signs of rustiness during their 90-minute set.
Kicking off with "All My Life" from the One By One album, they went straight into "The Pretender." A few songs later, when they played the new song "Shame Shame," Dave announced that their would be snippets of new songs played for the first time throughout the set. Those snippets came after "Learn To Fly" and "This Is A Call," and certainly gave more hints of the party rock vibe that the new album, Medicine At Midnight, is going to sound like.
If there was a crowd there, it assuredly would have been deafening in such a small venue like The Roxy. That for me was something I noticed. No singalongs for songs like "My Hero" or "Best Of You." No cheering after any of the songs was…jarring.
Not missing, though, was the energy from the band which I could still feel through my TV set. If you've ever seen them live, you know that the Foos never forget to have fun and enjoy themselves. This show was absolutely no exception. Worth the price? Yes.
Here is the set list from the show (omitting the new songs, of course, other than "Shame Shame." The new album will be out February 5.)
All My Life
The Pretender
The Sky is a Neighborhood
Times Like These
Shame Shame
My Hero
These Days
Learn To Fly
This Is A Call
Make It Right
Best Of You
Everlong
And because it's what I do and I couldn't help myself, here is a playlist of the setlist.
[Now let's move to Gilles LeBlanc and his review. -AC]
As I was watching Foo Fighters on Saturday Night Live the day Joe Biden was declared president-elect, I wondered to my quarantined self why they haven't joined the growing number of artists putting on professionally produced livestreams in venues without audiences. Now that it's too cold in Canada to do the drive-in thing any longer, bands such as METZ, PUP, The Dirty Nil and The OBGMs have been playing online shows to give fans a semblance of hope that live music will return one of these days.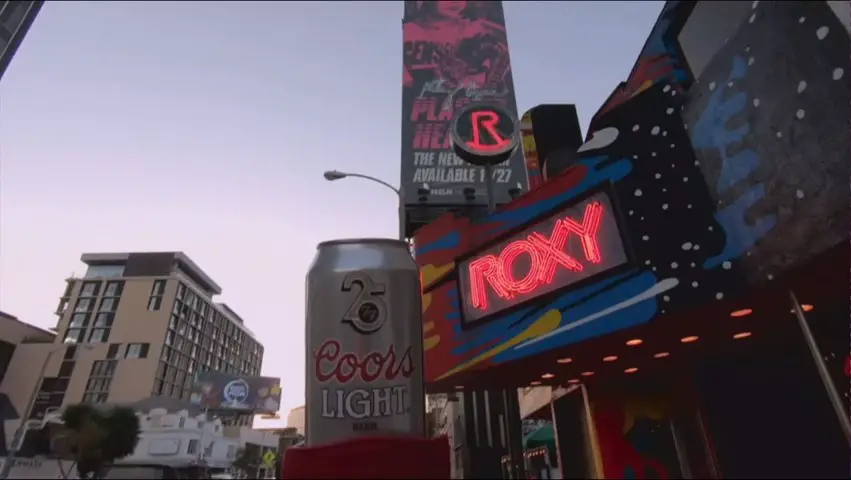 Dave Grohl and his somewhat-distanced mates jumped into the fray the very next weekend with a Coors Light-sponsored broadcast from Los Angeles' Roxy nightclub. They may be the biggest rock act on Earth, but the FOOs are no stranger to the intimately-sized Sunset Strip landmark, having performed multiple times there in promotion of recent albums. Medicine at Midnight, Foo Fighters' tenth studio effort since their 1995 formation was announced for February 5th of 2021, while lead single "Shame Shame" has received extensive airplay in the week since it was released.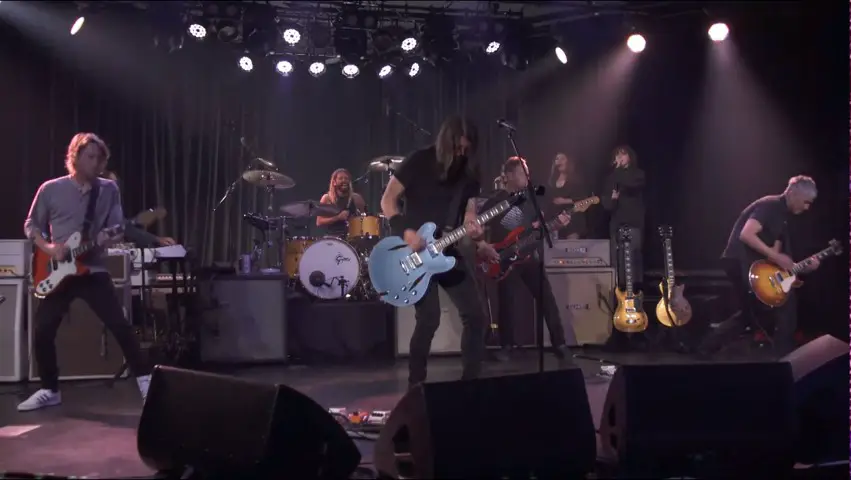 COVID-19 has arguably hit music harder than other industries; Foo Fighters were supposed to have spent 2020 celebrating silver anniversary-style, only to have their plans essentially reduced to a "FF25" logo on a beer can. A great deal of things are obviously out of his control, however Dave Grohl is very much aware of the power he holds to potentially make a difference. So for a little under ninety minutes (downright short for FOO concert standards), viewers around the globe felt they were right on stage through creative, multicamera work and impeccable audio. The "Beer Can Cam" getting its temperature checked before entering the Roxy was cute too.
The livestream setlist featured twelve songs in all including "Shame Shame" as well as familiar faves "All My Life", "The Pretender", "Learn to Fly" and "Best of You". I'm not going to link to it, but if you didn't buy the special whose proceeds went to charity there is more than one bootlegged video on YouTube. There was also more than one tease of new material off of Medicine at Midnight. Besides making everyone and their mother yearn for human interaction at events again, the snippets of songs to come had me personally wanting to break out my dancing shoes even with nowhere to go. Kudos to the Foos for having done the impossible and actually given us something to look forward to through the prospect of a winter lockdown.