So how much do artists get paid for a single stream? We have an updated list.
The Trichordist, a website run by David Lowery of Cracker and Camper Van Beethoven, has always been extremely critical of the payouts coming from streaming music services. He's a fierce defender and advocate of musicians' rights.
Every year, The Trichordist publishes what they call their "streaming price bible," detailing what the various platforms pay out for a single stream of a single song. The 2019 version is out now and is based on date taken from a mid-sized indie label with more than 350 titles generating 1.5 billion streams per year.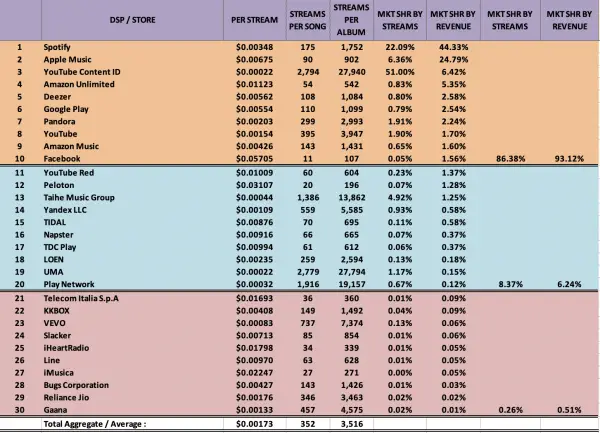 According to the date, Spotify pays out US$0.00348 per stream, slightly up from US$0.00331 in 2018. (A point of clarification: This figure is derived from both Spotify's subscription service and its free tier that's supported by commercials.)
Doing a bit of math, it means that if your song has 1 million plays on Spotify, you can expect a payout of US$3,500. That doesn't sound like much until you compare that to the payouts for airplay on traditional terrestrial radio. It's certainly higher than if a station plays the song once and is heard by a million people simultaneously. But compared to revenues from music sales, it's obviously a pittance. That, however, is an apples-to-oranges comparison. But let's not digress right now.)
Apple pays out quite a bit more per stream: $US0.00657, so if you have a hit on Apple Music, you'll make at nearly 1.5x the revenue. That's the highest payout rate of any service.
From a musicians' point of view, YouTube is a necessary evil. Viewership/consumption is huge–and if you don't exist on YouTube, you simply don't exist for a lot of people–but a single view pays out just US$0.00022. That's almost immeasurable.
If you want to dive into the payouts made by 30 different streaming services, go here.