So How's Neil Young's Pono System Doing?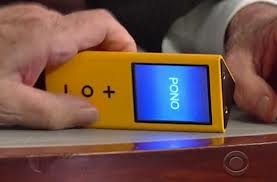 Pono, Nei Young's attempt at bringing true high fidelity sound to digital music, is still a going concern–but it faces some serious challenges.  Evolver.fm takes a look.
Neil Young made a big splash when he brandished a yellow object on Late Night With David Letterman last year. This was the mystical Pono audio player, inspired by Young apparently seeing a woman listening to music white earbuds presumably connected to an iDevice, and lamenting that she would never know top-notch sound quality.
Young and Pono hope to save the digital generation from the compressed audio files it loves so well. There's truth to the assertion that most people listen to compressed audio on subpar speakers and headphones, but the jury is still out on whether HD audio is the answer.
Depending on who you believe (we've published opinions from both sides of the debate), high-definition digital audio, which has failed in the larger commercial market every single time someone tries to do it (DVD-A, SACD, HD Tracks, etc.), is either the one thing that will save us all from horrible sounding music or total hokum.
Pono is one of two phantom "we will fix everything in 2013″ music services we've been trying to highlight — the other is Beats Music, which we previewed here. As for Pono, we haven't been able to wring any information out of it, and we've been trying.
Still, there has been some action on the Pono front. On May 24, the company tweeted, "Still working on it! Thanks for your patience, folks." Then came two more tweets, over a month ago, about Neil Young visiting high-end speaker manufacturer Meridian  — a strategy that makes sense, given that we also uncovered that Pono is pursuing club owners to try to install itself on speakers there.