Some Obsessively-Compiled Statistics About Radiohead's 2012 World Tour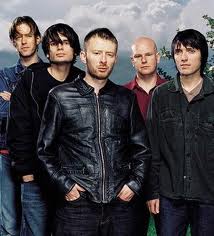 That headline is not a slam.  The Internet allows superfans to really, really, really document everything their favourite band does.  As someone who spends most of his waking hours doing research on music, I love this stuff.
Radiohead At Ease reports:
Back in November, Radiohead wrapped up their 2012 world tour in support of The King Of Limbs. We followed the tour very closely here at At Ease and we've gone through all 57 setlists to bring you some numbers from Radiohead's 2012 tour. We're not Nate Silver, but we try.
We compiled similar stats after Leg 1, Leg 2, and then combined them here. We've used those as a base for what follows below. We may come back to this post and add more stats if we come across something interesting (suggest away in the comments). In addition, if you want a simple list of the number of times every song was played in 2012, head here.
Final Statistics: Radiohead 2012
57 shows
Miami, Tampa, Atlanta, Houston, Dallas, Austin, St. Louis, Kansas City, Broomfield, Glendale, Seattle, San Jose, Santa Barbara, Coachella 1, Mexico City 1, Mexico City 2, Coachella 2, Mansfield, Newark 1, Newark 2, Washington DC, Cincinnati, Cuyahoga Falls, Bonnaroo, Tinley Park, Auburn Hills, Camden, Montreal, Nimes 1, Nimes 2, Bilbao, Lisbon, Taipei, Jisan, Fuji Rock, Quarry of St. Triphon, Rome, Florence, Bologna, Codroipo, Berlin 1, Berlin 2, Manchester, London 1, London 2, Paris 1, Paris 2, Amsterdam, Cologne, Strasbourg, Antwerp, Auckland, Brisbane, Sydney 1, Sydney 2, Melbourne 1, Melbourne 2
17 countries visited
USA, Mexico, Canada, France, Spain, Portugal, Taiwan, South Korea, Japan, Switzerland, Italy, Germany, United Kingdom, Netherlands, Belgium, New Zealand, Australia
54 different songs played
(Including True Love Waits and Hunting Bears snippets; not including the Everything In Its Right Place intros)
Longest show: 25 songs/140 minutes (Bonnaroo)