Some parents are trying to remove a teacher because she's an Iron Maiden fan. [UPDATED with latest info.]
I'd expect something like this to happen in the Deep South. This case, however, is very Canadian.
Sharon Burns is not only the principal of Eden High School in St. Catharines, Ontario, but she's a metalhead ("fueled by metal & ska," she says). A big Iron Maiden fan, to be specific. This, however, isn't sitting well with a group of parents who have started at Change.org petition to have her transferred somewhere else.
Why? I quote from the petition:
As concerned parents with impressionable children at Eden High School in St. Catharines, Ontario, we are deeply disturbed that the principal assigned to the school blatantly showed Satanic symbols and her allegiance to Satanic practices on her public social media platforms where all the students can see them under @edenprincipal (not her personal account).
Uh, okay. But then there was an edit to the petition, pointing how that their demand for Burns' removal was actually because of "openly displaying her OWN handmade sign with the 666 clearly displayed on it."
Right.
When I last checked, 432 had signed the petition.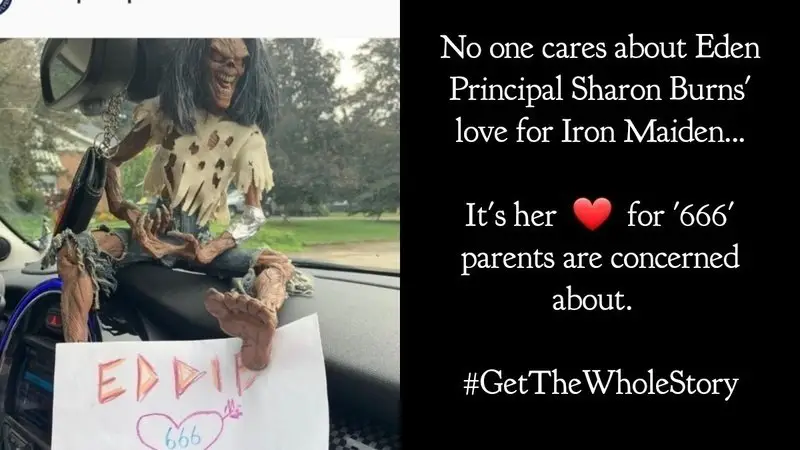 But don't despair! There's now a competing petition.
Recently, there has been a petition going around to "remove" the principal of Eden High School. It is ridiculous that a couple of parents only judge her role as a principal only based on an Instagram post. (About liking the band Iron Maiden. That's it.) Eden High School is a public school. Not a Christian school. If you somehow don't like the principal of your child, grandchild, relative etc.'s school, then send them to another one. The principal has made so many efforts to remind students that eden is a diverse place. She has even turned a whole room into a prayer room for students who are practicing religions other than christianity, like practicing Islam. She has made eden a safe space for so many people. She spreads nothing but love and kindness, and is probably one of the best and most enthusiastic principals the school has ever had. If you would like to bring some light to this whole petition, please consider signing!
The last time I checked, it had been signed by over 15,000 people with 12,500 people signing up in the first eight hours. In fact, when I was looking last night, the numbers were clicking up like a gas pump.
UPDATE: The National Post reports this.
Burns declined an interview, forwarding a request from National Post to the school board's spokeswoman, who called the international attention a "unique experience."

"As you can imagine, Principal Burns, like all of us, is quite surprised by how her Instagram post led to two petitions and grew to be a topic of interest around the world," said Kim Sweeney, chief communications officer for the District School Board of Niagara.

"We know Ms. Burns as a passionate and dedicated educator who is happiest when she can focus on and connect with her students."

After the complaints were aired, the board spoke with Burns and the parents who published them, and the issue is over as far as the board is concerned, Sweeney said. No disciplinary action or policy changes were needed.
We're done, then.