Something Really Stinks About the Presale for the Tragically Hip Tour
UPDATE: Another Toronto show added for August 14. Same password, so the bots won't be fooled. More shows across the country, too.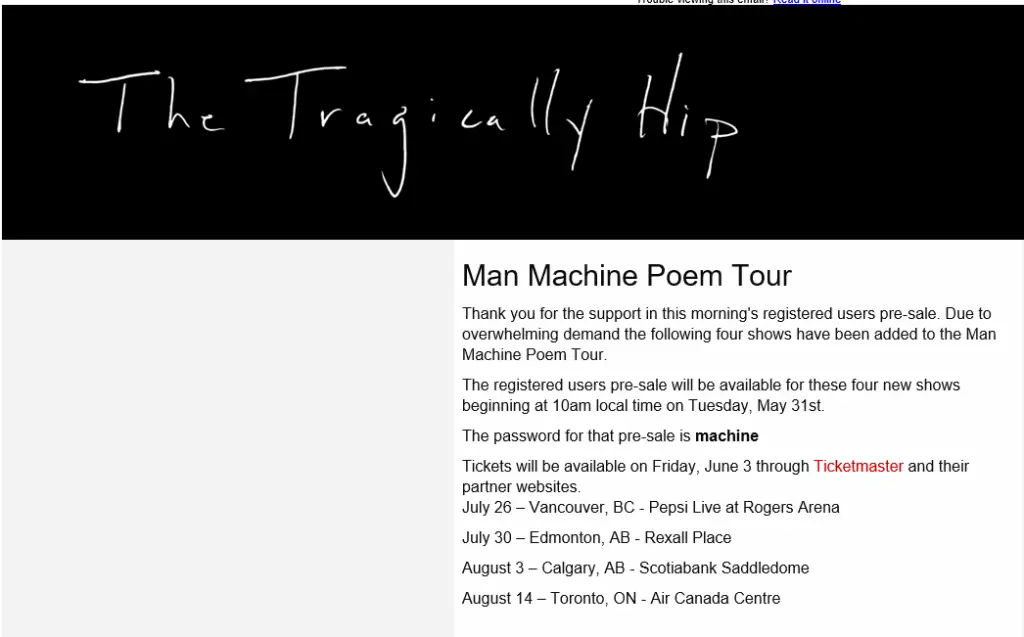 This morning, untold thousands of people waited by their computers and handheld devices watching the countdown click towards 10:00:00 so they could use their pre-sale code to buy tickets to what could very well be the last Tragically Hip tour. Predictably, things went pear-shaped quickly. Emotions be damned. Cold-blooded capitalism is ruling the day–and people are mad. In fact, mad doesn't begin to describe the mood across the nation.
Comments to my post on Facebook are still pouring in.
My Twitter feed looks like this:
@alancross seen this before, presale tix sell out ASAP, pop up right away on @StubHub for $$$$.#scum #fuckticketmaster @thehipdotcom

— Grizz (@DRex88) May 30, 2016
@alancross Calgary was sold out immediately at 10am and by 10:01 there were 44 listings on stubhub. Something is very wrong here indeed.

— Scarecrow Boat (@scarecrowboat22) May 30, 2016
@alancross @lululindberg this shit has to stop! I can't afford to go to concerts anymore!

— Jason Kowch (@kowchothorpe) May 30, 2016
@alancross 1 code for everyone doesn't work. Need to generate unique codes for everyone

— Ryan (@rye_guy83) May 30, 2016
And email has been going crazy. Here's just a small selection of what's come in so far today.
Hey Alan,
As a loyal fanclub member I was ready at 10am for my tickets. There was nothing. They were all gone. Immediately. I was trying for the Hamilton concert and it's like they were never on sale. Immediately they are available on stubhub and alike for thousands of dollars. Greedy people capitalizing on a cancer diagnosis. It's absolutely sickening. The 'legit' tickets donated a portion of the sales to gord's fund at sunnybrooke hospital. Do you think any of these thousand dollar ticket scalpers are going to donate? Of course not. I don't believe that Ticketmaster cares about whether or not tickets get into the right hands. They must get some kind of kickback from these resales. I just wish musicians would refuse to sell tickets through ticketmaster. We will never be free of this garbage until they fix it. I have never been able to see the Hip live and it looks like I never will…
Please investigate this and raise hell. Your voice is louder than any of ours.
Yours in music,
Sara Languay
_____
First let me say that I'm stating this simply to shake my head at an unfair system, as one person's individual anger will do nothing but give him a heart attack.
Isn't it ironic that the outcome of today's Fan Presale of Tragically Hip tickets has resulted in few fans with smiles on their faces and lots of overpriced tix now on StubHub?
Think about it… these tickets were for FANS. Fans wouldn't double, triple, even quadruple the prices and sell them for a profit. What makes this even worse is that the people/businesses snatching up these tickets to sell them again are taking advantage of true Hip fans who want to see their favourite band play for the last time, because its lead singer is dying of cancer.
Therefore, the blocks of seats sold today will not truly mark the "fan sections," but rather the "people with lots of expendable income" sections.
True fans can buy their tickets on Thursday.
Sincerely,
Mike Richardson
_____
Check out this scumbag: http://www.kijiji.ca/v-tickets/calgary/the-tragically-hip-scotiabank-saddledome-mon-aug-1-8:00-pm/1169675230
–Doug
_____
Calgary counted down and refreshed the page, which took 30 secs, and then there was nothing (was trying for 2). I refreshed for 25 mins, and my daughter was trying as well, as were several friends. Nothing. About 10:15 I looked for a single in Edm and got one halfway down the side in the 14th row, so at least I can go. Tried again in Van at 11 their time, only for a single, nothing right off the bat.
I used to be able to score great tickets for most shows I wanted to see. Friends used to joke I had a black belt in Ticketmaster, and would ask me to get them tickets (if I wasn't going to a show). In the last couple of years, it's dwindled to almost nothing, even on fan club presales like today (which used to be the best).
It's the damn bots, and TM feeding StubHub. I bought a pair of front-row tickets off StubHub for Billy Idol here (yes, I'm a big fan), and the seller had the 8 front row centre tickets. A normal buyer would be lucky to get 1 or 2 front row, but this "guy" had the 8 in the middle. Tell me those weren't fed to him.
I saw a newsmagazine show from the UK a few years ago (similar to W5) where they planted one of their staff working at StubHub, and Ticketmaster would send over hundreds of tickets, and it was the office staff's job to make up accounts to sell them. Then there are the Britney Spears of the music biz who stipulate in their rider that tickets be held out for the secondary market.
Something needs to change.
Doug
_____
Hey Alan,
I was trying to purchase tickets for the Vancouver show this AM. I logged into my ticketmaster account yesterday and double-checked my payment info to make sure it was accurate and up to date so that it would work at game time this morning. I had the website up at 9:45 PDT and watched the countdown.
The countdown finished and I instantly requested 4 tickets at "best available." That bounced back as "Not available." I changed my request to 2 tickets, again, no dice. Then I did 1 ticket, still coming back Not Available! WTF?? That was insane. Not even a single ticket available within 30 seconds of the start of the pre-sale. 
I kept refreshing and refreshing and yelling a string of profanities at my computer in disbelief until I was finally was able to secure two tickets at 10:19 AM.  Both in the nosebleeds. Non-alcoholic section. Sweet. I'm still happy to get to see them one last time, but I mean, come on, right?!?
Kyle Hagel, Vancouver BC
_____
Something stinks with the presale! I was logged in, ready to go and NO Tickets were available.
Looking online? I saw 40+ tickets for Kingston on stubhub going for $950+ per ticket
I'm a member of the TTH Fan club facebook group, I would say 85% of the posts today were to do with not getting tickets.
Josh
____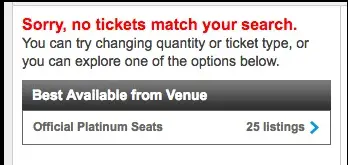 Hi Alan,
My wife and I had 5 screens with 5 different connections on the presale and were trying for Kingston, Ottawa, and Toronto.
Ottawa: We got Ottawa on the presale. OK Seats, no real difficulty. Presale seemed to take 5-6 minutes to sell out.
Kingston: I was redirected to the "select seats on the map" page for Kingston, selected seats, and after waiting 10 minutes to "verify my purchase" were told that they were gone. For what I can tell, Kingston's presale sold out in 15 seconds or so.
Toronto:I don't know anyone who managed to get anything at the ACC either night. Seems shady. Maybe leafs season license holders got to buy them first and there were no presale seats off the floor?
Resales I've seen as high as $3,000 USD for floors at the back for kingston,
$2500 USD for Ottawa stands, and Row 11 for $1125 for ACC Friday.
I really hope TM makes good on their promise to cancel resold seats and have creditcard entry at all venues. This SHOULD mean that seats will open up over time.
Seen the hip 17 times now and got every album since Fully, Completely on it's release date. Learned to play bass and guitar from their songs and they've truly been the soundtrack to my life. I feel fortunate to have tickets to one show, but it would have been unreal to see Kingston. Maybe they're hiring crew for this tour?
Andrew
_____
I'm both furious and heartbroken. No surprise here: Spent an hour and a half using two browsers (Chrome and the godforsaken IE) plus the browser on my phone and nothing. A friend has already paid $520 for a pair for the 8/10 show on StubHub. Rat bastards.
Amber
_____
I had 3 browsers opened, on three different internet connections at 9:55a – YYZ on the 10th, YYZ on the 12th (which is what I really want), and YOW on the 18th.  At 10a, each browser refreshed when the clocked turned 10a and at 10:00:13 in every single case, they showed sold out.  My wife also tried from her office in the city, and my brother-in-law too from Ottawa.  Not a single hit.  13 seconds to sell out 3 venues?  Now I'm sitting here watching twitter and see people posting they just got tickets (up to two hours later) for these venues.  Something just does not sound right.
We were looking for four tickets (my wife, me, my brother-in-law and sister-in-law) and we were going to meet in Toronto since there are no shows in the Maritimes.
Ticketmaster is known to be pretty crappy, and this just helps add to the reputation.  There are a lot of things TicketMaster could do better and to prevent this sort of crap.
Personally – I'd love to see some sort of statement from The Tragically Hip about all this.  I'm sure there is no way they released all the seats to presales, so I'm hoping for better luck on Friday.
It also appears they just released platinum seats for YYZ / Aug12 as I was typing my email to you.  Why were these not released at 10am?
dcc
_____
Hey Alan
Tried to get Toronto tickets right at 10-10:05, "none left" (constantly re-searching).  Found Hamilton floor tickets minutes later, but got lost during the purchasing process (ticketmaster error?).
Finally got a floor ticket for the Calgary show.
I did notice that StubHub had tickets for sale before the presale even opened!
Owen
_____
First,I've seen the hip about 36 times..Markham, Kingston,st Catherines, Syracuse, erie pa, Cleveland, Rochester and many times in buffalo .so this was a MUST. I tried on 2 phones and a laptop but, nothing for Hamilton,London or To. So after 30 min of trying, I did something I swore I'd never do. I went on Stubhub. They were  $129 each but were gone when I clicked on them. Then they were $150, then more..I gave up on the cheapest and paid 210 each for 300 section on 8/10 in Toronto. I'm happy but ashamed, as well.  I've paid alot before but NEVER  on secondary mkt. I'll try again tomorrow too. That's my story. Barb Hahin (age 54 and ive been to thousands of shows)
PS:Amber Healy is such an  awesome person and I am glad (and lucky) to have her back in Buffalo
-Barbara
_____
1:55PM
I sat poised and shaking at 9:55 am. I am a long time Hip fan, and I just must be there for at least one show. At 10:05 the site rejected my pre-sale code more than once. Frustrated and yelling into the ether, I kept trying and waiting watching that image of the ticket fill over and over as the "available tickets were searched". At 10:11, eyes full of tears I gave up. At 10:15 am defeated and depressed I fed the beast that caused my earlier frustration….I bought from Stub Hub. You know what, they were some good prices at the time when I first started looking (good prices compared to now). But they were getting snapped up like crazy. I feel lucky to have paid what I did. But I HAVE TO BE THERE! So I forked out the cash. I am a fan of music in general so this is not the first time a pre-sale has passed by me, Pearl Jam last summer comes to mind. The only pre-sales that seem to work, is when the group themselves invest in sending them out individually at that I believe I only experienced when I bought the Chili Peppers tickets from a code provided by the CD in a presale on iTunes.
Also there was no link to buy platinum seats for Toronto shows – what's up with that??
Thanks dude for all you do for the music industry… I am a long time fan of your work at CFNY, Ongoing history of New Music and all your journalistic work on music in general!
Cheers,
Carol
____
I was reading your facebook and blog about the fiasco with the Hip Ticket Pre-Sales.  I guess I was a lucky one.
At first, I was trying for 2 tickets to the London ON show and was all prepared as expected.  I was signed in with my Internet Browser on my laptop computer to Ticketmaster and was ready and determined to obtain 2 tickets.  As everyone has been reporting, there were none to be had by 10:01 AM EST but already 22 were posted on StubHub at that exact time for about X 2.5 the price.
Still – I was determined and I know that tickets can get held up from people with multiple browsers who are hanging on to tickets and then refreshing to get better ones (or so I believe).  I refreshed and refreshed my browser ever hopeful.  
I also started an internet search for the best way to buy tickets from Ticketmaster.  I thought I was all set as I followed the standard preparations.  I found a site that suggested downloading their Mobile App as there are potentially tickets set aside for their mobile client.  I don't know how much truth there is to this as it was a simple Internet search….but still, I donwloaded the App and tried finding tickets through that option as well.
Lo and behold…after 27 minutes of refreshing, I was presented with 2 tickets in a reasonably good section with Row A seats using the Mobile App.  I immediately purchased them grateful that any were available to me ….. and at face value.
I continued, out of morbid curiosity, to see if any would come up on the Internet Browser but I gave up after 60 minutes as no tickets had become available.
Just thought I would share my story as I was quite irate when I wasn't able to get tickets right away but was eventually rewarded with my persistence.
Cheers,
Greg
_____
Hi Alan. I wanted to add my voice to the ever-growing number of respondents. While I understand the frustration completely, and while something seems very suspicious about the way things have transpired, I managed to get 2 individual tickets to the Hamilton show through the pre-sale. Some people, including myself, have been very lucky. Let's hope Gord's health allows for more shows, giving more fans a chance to say good-bye.
Mike
P.S. Why do you think there aren't any Saskatchewan shows? A friend of mine from Regina is pretty devastating by the whole ordeal and would have loved to see the band one last time. 
_____
Hi Alan,
Just responding to your tweet in regards to presale tickets for The Hip. Unfortunately I did not get tickets this morning; I tried for tickets for the Friday show at ACC and there was nothing available at 10:01. I also tried for tickets to the Kingston show and had four floor seats until the site kicked me out. I was also to get four more in the second level, yet was kicked out again after five minutes of trying to process my order…by that time there was nothing left anywhere. I totally understand the demand for tickets being at another level given the circumstances surrounding the band, but I still have a tough time seeing an entire arena sold out in 90 seconds. Adding the fact that the site booted me twice after I had thought I got seats for another show and needless to say it was a very disappointing morning.
Enjoy listening to your show from Buffalo,
Tyler Roeder
_____
Hi Alan! 
I sat at my desk and watched the count down to 10amET, and I managed to get tickets without any issues for the show in Ottawa during the pre-sale.  I got 2 sets of 2.    Floor seats and section 200. 
I was trying for Kingston and Toronto, but no luck. Just a screen with no tickets available.    
However I can empathize with those that were not so lucky to get tickets during the pre-sale.  The current ticketing system is not working. Clearly when I go onto "stubhub" and see tickets going for $2500 USD a ticket!!   There is a problem.   Maybe its time we go "Old School" and line up in person for tickets?
Thanks
Heather  
_____
Hi Alan,
First, thank you for all you do for music.
Next, this Tragically Hip presale crap is devastating to us long-time fans with limited budgets.  I received my presale code last night for the Victoria show and sat by my computer with the window ready to go diligently this morning.  Nothing – nothing – available but tickets were selling on Stubhub.
Now Stubhub is trying to justify their involvement with this juicy little pop-up: (see attached screen grab)
I'm sick and despondent.  I have a chronic migraine condition, so I don't make an effort to get out to much live music these days, sadly.  I was making an effort for Gord and the boys this time.
Greed has taken away an experience from me and many other dedicated fans to connect once more with a band we care about.
It would be nice if they could cancel all the ticket sales so far and do a do-over to try and rectify this. It would also be nice if Ticketmaster took some responsibility. I won't hold my breath
To Gord, Gord, Paul, Rob, and Johnny, if you ever get to read this – have a hell of a tour.  I'm devastated I can't afford to see you now, but I bet it'll be a great show.
Sincerely, 
Morgan
_____
Hi Alan,
So I've been throwing around an idea for the past few days about Tragically Hip tickets that I would love to present to your blog or anyone else who thinks this would be a great idea for an add on to the story of how quick pre-sale tickets sold out.
I'm in Ottawa. Public sale of the tickets start at 10am on Friday. I'm going to do this the old fashioned way – I'm going to haul ass to the Canadian Tire Centre at an ungodly hour to wait in line. Judging by the reaction to the presale, I am starting to think of heading after work Thursday and pulling an all-nighter.
I'm doing this for two reasons:
1) I have never trusted online ticket sales. I have only a prepaid credit card, so the times I've tried to take advantage of first day sales through the Ticketbastard website, I had to literally prepare for it days in advance and I've never been able to get tickets to the shows I want. Not to mention, in the cases of some area venues, it actually saves money to physically go to the box offices. If there's a kiosk, I do that.
2) Back when Sarnia Bayfest got the Hip for the first time, my 17-year-old self was in the line up for passes at 5am they day they went on sale. I didn't regret it then, and I certainly won't regret it now.
In what will more than likely be a long wait, I would love to submit some kind of blog post documenting the wait and to see if lining up for concert tickets are still a thing. After all, I'm going to need something to do.
Let me know what you think. Add another level of investigation to the mess that are these ticket pre-sales.
Thanks!
Emily
_____
Hi Alan,
Let me first say that I've been a huge fan of the Ongoing History of New Music since I was but a wee lad. As I'm sure this was the case for 1000's of Canadians, and particularly Torontonians, it was a huge influence in developing my love and respect for music and musicians. For me, it led to founding a student-run media outlet, Slope Media (www.slopemedia.org) during my undergraduate years at Cornell, hosting my own radio show/podcast and interviewing bands/musicians/artists like Editors, The Decemberists, The Strokes, and, more controversially, Girl Talk. So, a belated thank you for your inspiration and excellent work.
Like many Canadians of a certain vintage, I was sitting at my computer at precisely 9:22am EDT with my pre-sale promotion code in hand and my Ticketmaster account properly set-up. The next 38 minutes felt like an eternity, but I knew such over-punctuality would pay off with tickets to see The Tragically Hip on their devastating but inspiring good-bye tour. At 10:00:00 EDT, I promptly entered the promotion code "machine" into the designated area on the TicketMaster website. Shockingly, it came back with an error code. I thought I must have been overly excited and spelled 'machine' wrong or had the caps lock on. So I entered it again – still to no avail. I continued to enter the code in while communicating with my friend who had the same results. After a brief but sharp panic attack, I scoured Twitter and saw similar complaints of the promotion code not working. I continued entering it after refreshing my browser. Roughly at 10:06am EDT, the promotion code finally worked and I searched for best available tickets for the August 12 show in Toronto. Response after at least a minute of the search engine searching: "Sorry…no tickets match your search." I tried August 10, the other show in Toronto with the same result.
This is truly a disappointment. I will continue to try to get tickets at tomorrow's freshly announced pre-sale for the newly added August 14 Toronto show, failing which I will try again during the regular sale on Friday. Given this experience, and other recent past experiences with TicketMaster, this is not at all surprising. This specific attempt at getting tickets is just that much more disappointing given the personal importance of seeing this particular concert. I hope nothing fishy went down. I'm not sure I could think of the accurate word to describe how awful it would be if there proves to be corruption/profiteering in light of the circumstances of Gord Downie's prognosis. 
Thank you for your willingness to investigate this.
Take care,
Jeff Bookman
_____
Re hip tickets.
Just a thought & warning if anyone buys through outside sources ie scalpers stubhub & Gord's health turns to the worst making him unable to perform all concerts. I'd think the only refund you'd get is the price on the ticket. Little food for thought & you have the outlet for informing fans of this.  Hate to see profiteering of fans especially in cases like this. Would be great to see them stuck with all their tickets.  The hip wouldn't loose because of all tickets sold at face value.  Their only loss would be from merchandise.
–Greg
_____
As if by (black) magic, tickets showed up on StubHub at the speed of light. Michael sent me this screenshot. These prices are in USD, by the way.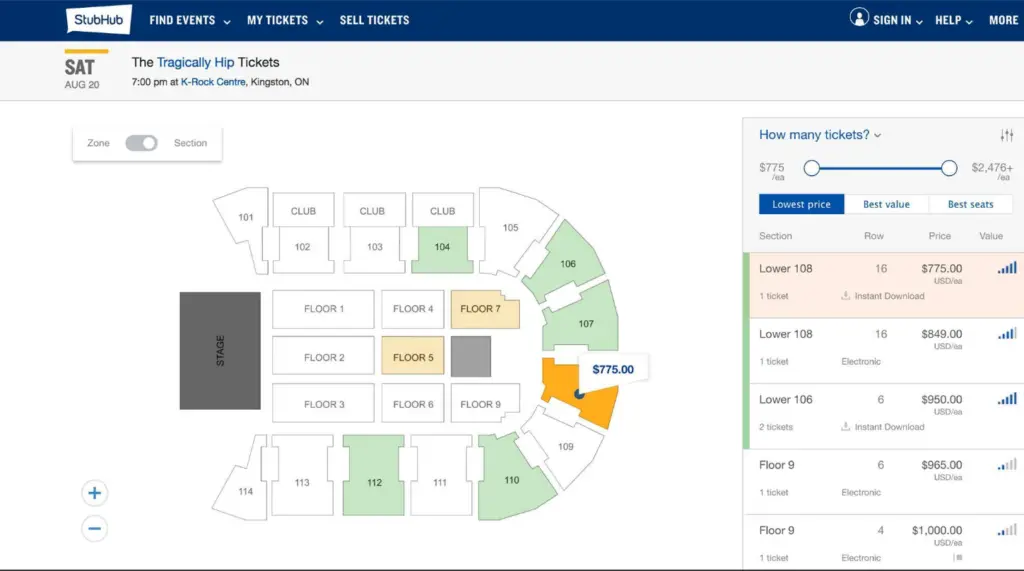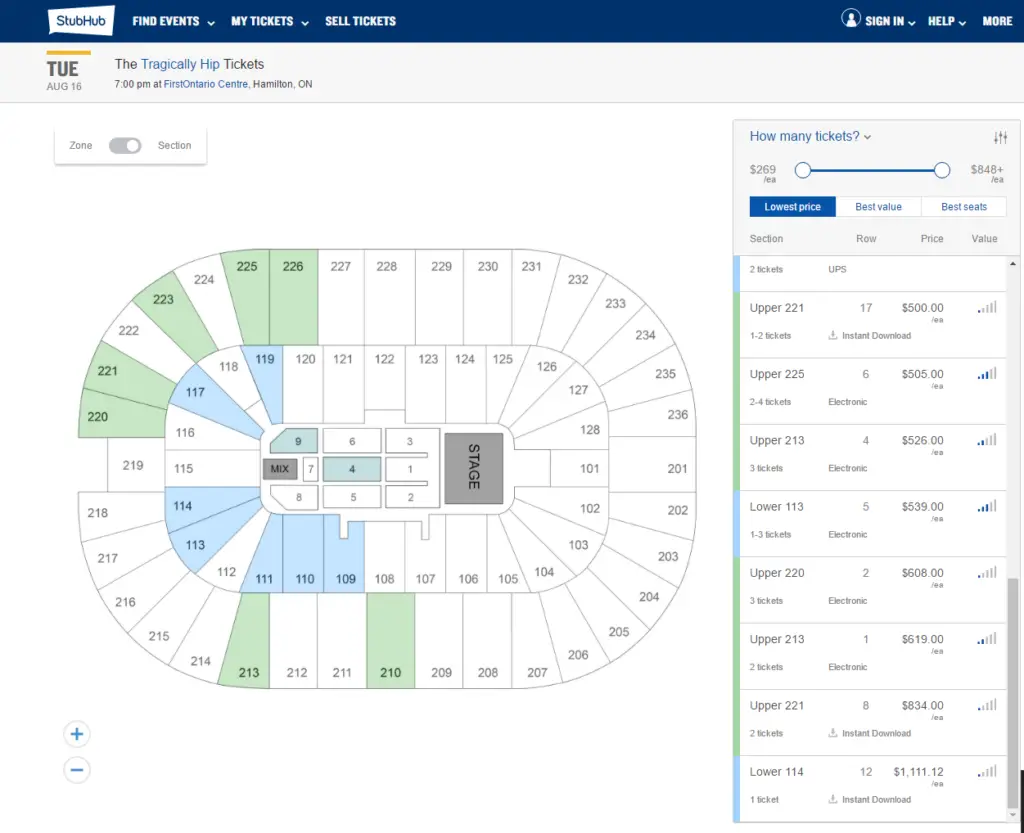 And this is the situation in London.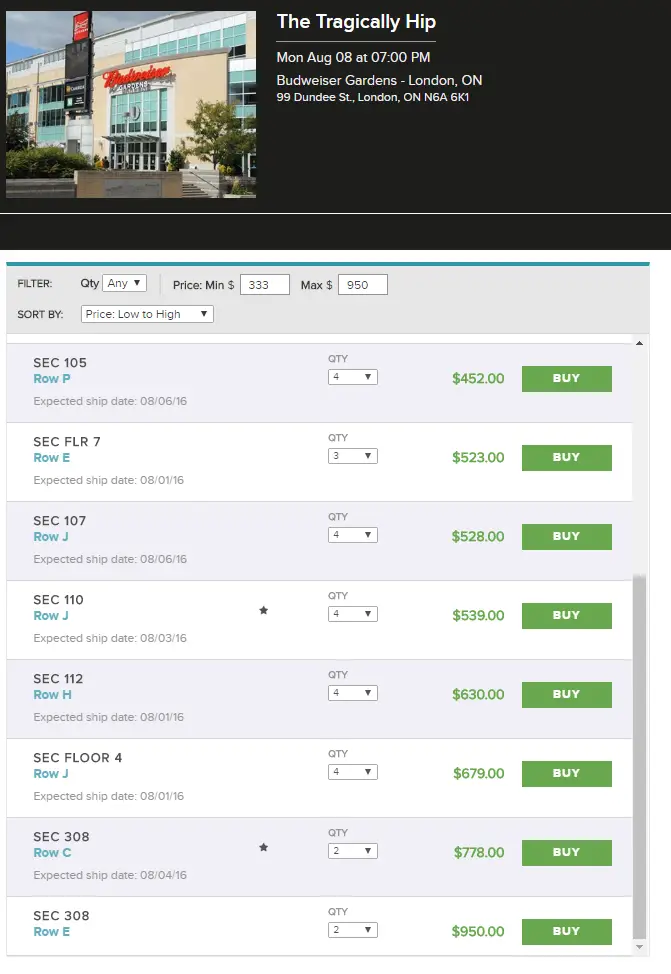 And here's Calgary.
Things are already heating up on eBay: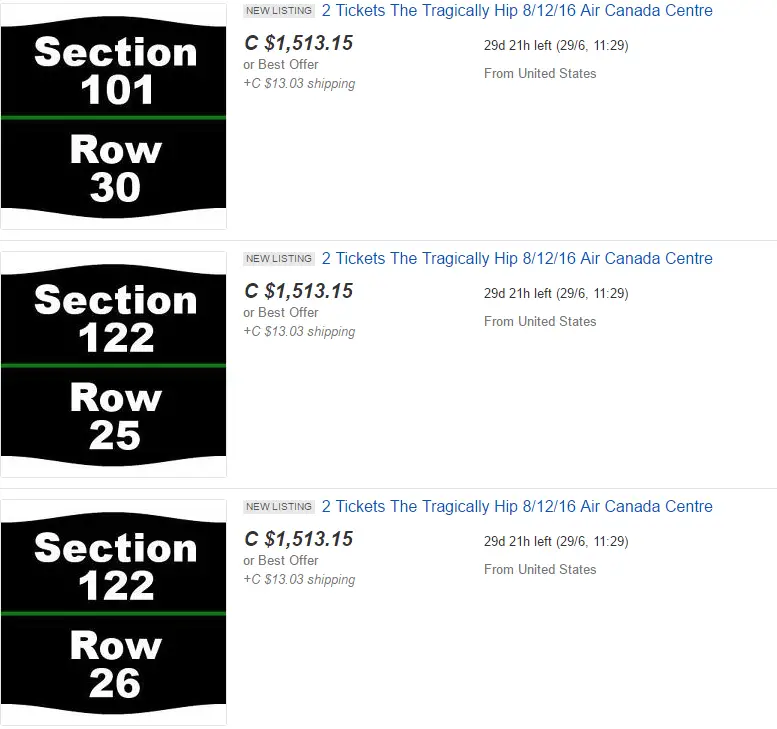 And the tickets are on Kijiji. Love the last post, though.