Songwriters Association of Canada's "Songposiums"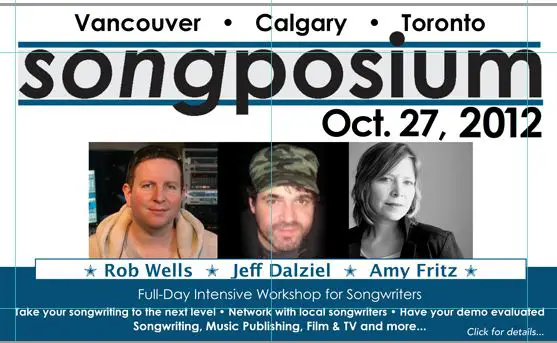 From the press release:
What makes a great song?  Why are some songs played endlessly and loved for decades to come?  What is the art and science behind writing that elusive unforgettable song?  The spotlight will be on songwriting Saturday, October 27th as aspiring and developing songwriters from all musical genres gather at Songposium 2012, an intensive one-day seminar where industry pros will share their experience and wisdom on the art, craft, and business of songwriting.
Presented by the Songwriters Association of Canada with Music BC and the National Music Centre, Songposium will cover the anatomy of a great song, how to get songs into film and television, and the ins and outs of publishing and licensing songs.  Many participants will also have the priceless opportunity of having their songs evaluated by music industry pros and expert songwriters on the panel.
[…]
For more information and to reserve a spot, visit http://www.songwriters.ca/songposium.aspx or call 1-866-456-7664.