Sopranos Creator About to Release Music Movie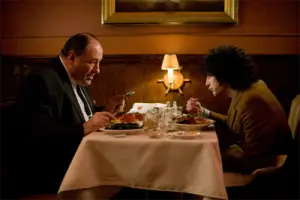 We haven't heard much from David Chase since Tony Soprano's life cut to black over the strains of "Don't Stop Believin'." But he's been working.
The Sopranos creator has completed a film called Not Fade Away. Set in 1964 in New Jersey (where else?), the movie follows three Italian-American friends who form a rock band.
I know, I know. The Jersey Boys has already been done.
The difference is that these guys have a Springsteen-esque vibe. In fact, Steve Van Zandt produced the soundtrack, so expect a lot of Underground Garage-type stuff. And yes, James Gandolfini is in the film.
The premiere of Not Fade Away is coming up at the New York Film Festival in September.