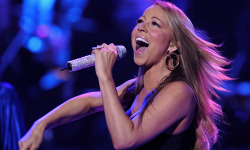 Not those Sopranos–actually singers. From the Wall Street Journal:
Using vocal range as a proxy for estrogen levels, then, a recent study compared the lifespans of 286 sopranos, altos, and mezzo-sopranos (the latter two were combined into one unit), born between 1850 and 1930. The researchers also looked at 226 male singers from the same period — tenors, baritones, and basses (the latter two groups, again, combined)— to explore the effect of testosterone on lifespan.
Read more here. If the findings are true, then Mariah Carey will outlive is all.