Sorting Out the Grateful Dead's Aoxomoxoa Photo
For years, I thought that the little girl seen at the bottom left of this group photo (part of the liner notes for the band's 1969 album, Aoxomoxoa) was Courtney Love. That legend had more than a whiff of authenticity. Her father, Hank Harrison, was a Dead confidante and hanger-on at the time. There are many stories of Hank taking his baby girl with him to various Dead functions. And given that Courtney was born in 1964, she'd be about old enough at the time of the photo.
Turns out the story isn't true. The girl in question is actually Stacey Kreutzmann, the daughter of the Dead's Bill Kreutzmann.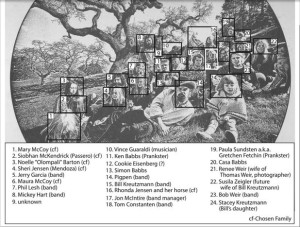 Oh, well. It was a good story while it lasted. The definitive account of this photo can be found at Dead Essays.