Spotify Gets into the Dating Business a New App Partnership
When it comes to dating, music can be a dealbreaker. You're into dark drone metal but she's into Justin Bieber. He's into high-velocity EDM while you'd rather spend an evening chilling to Jack Johnson. You see the problem. This is where Bumble comes in.
Bumble is a dating app that is teaming up with Spotify. Users will soon be able to connect your Bumble profile with their Spotify account. Potential partners will see what your favourite artists are. Tap on one of the featured performers and you're taken directly to the artist's Spotify page so you can sample what they sound like. The screen looks like this: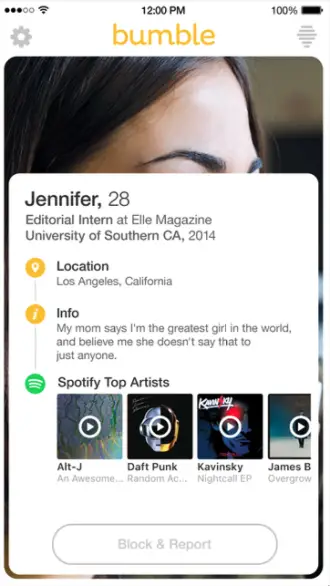 TechCrunch continues:
While some may think music preferences aren't a big deal, Bumble is betting that they can be significant enough to influence whether or not you decide to swipe left or right on someone. "Music says a lot about who we are as people and connecting culturally can serve a foundation for creating meaningful relationships" explained Whitney Wolfe, CEO and founder of the company.
While users could have previously just typed their favorite music in their profile, Bumble acknowledged that many users may not choose to take the time to do that, and it would be helpful to provide a direct link to Spotify in case a user wants to listen to a potential match's music choices.
But what if you have some guilty pleasures that you don't want a potential mate to see? Don't worry because there will soon be an option to hide the stuff you never, ever want anyone to see.